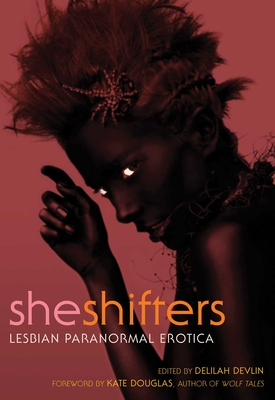 She Shifters
Lesbian Paranormal Erotica
Paperback

* Individual store prices may vary.
Description
The idea of shapeshifters--beings both human and animal--ignites our imaginations with visions of primal passions and insatiable hungers. Most commonly seen as dark, masculine demons, shapeshifters are in need of a metaphysical overhaul--a new feminine/Sapphic blending of physical power and inescapable desires. She Shifters re-envisions common and not-so-common myths and deliver a fresh perspective from the storytellers. Traditional lycanthropes and feline familiars appear, was well as more obscure, lesser-known mythologies from around the world to create inventive tales celebrating feminine power, lust, and erotic love. Paisley Smith's "The Night Crow" finds two lovers, divided by centuries and a terrible sacrifice, reunited in London. In Christine d'Abo's, "Scorched Retribution", a human woman has come home after a ten year absence, hoping to make amends with the one person whose heart she'd broken. But the heart of a dragon isn't easily won and the woman must offer herself up for retribution or risk losing her lover forever. In Angela Caperton's "Sweetwater Pass," the eldest daughter in a family of shape shifters heading to California in the era of the great wagon trains, meets a Native American "sister" and finds the promise of the West fulfilled. Delilah Devlin's one-of-a-kind She Shifters unleashes the wild creature inside us all!
Praise For She Shifters: Lesbian Paranormal Erotica…
"She Shifters is a collection of quality short stories about women shapeshifters finding emotional and physical love. These tales span numerous settings, ethnicities, gender presentations, and animal forms, creating a diverse and interesting set of works. Though these stories are fairly quick reads, each captivates the reader with new worlds and creative erotic situations. From struggling victimized wolves to powerful dominating dragons, these tales can appeal to a wide range of people [...] She Shifters' tales of love, sex, and the paranormal are well-written and stimulating. This captivating read is highly recommended for those who would like a short, interesting, and truly erotic jaunt into the paranormal." --The Center for Sexual Pleasure and Health
"This unique collection of highly erotic paranormal tales was a delectable feast of erotic words and images that also pack a serious emotional punch that will stay with you long after you have finished this book. It is well worth the read." --Night Owl Reviews
"This anthology is full of sexy lesbian stories all featuring shape shifting main characters. It sizzles, it soars, and it captures your attention." --Kathleen Tudor
"She Shifters explores a wide array of metaphors for female sexuality and lesbian intimacy and presents the reader with an accessible selection of stories that can be enjoyed for the surface pleasure of erotic fulfillment, or can be considered for the greater depth that they give to this genre." --Erotica Revealed
— Reviews
Cleis Press, 9781573447966, 232pp.
Publication Date: July 10, 2012
About the Author
Delilah Devlin is a rising star in the world of erotica and romance. Her titles include Cowboy Lust, Into the Darkness, Seduced by Darkness, Darkness Captured, Down in Texas, and Texas Men. Her short stories have been featured in Zane's Purple Panties, Girl Crush, Fairy Tale Lust, Lesbian Lust, Carnal Machines, and Passion. A USA Today best-selling author, she lives in Arkadelphia, AR.
or
Not Currently Available for Direct Purchase