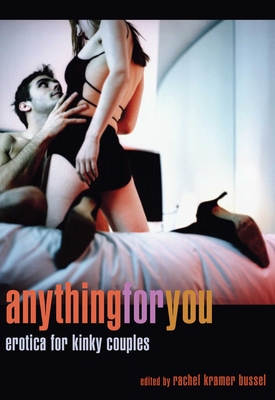 Anything for You (Paperback)
Erotica for Kinky Couples
Cleis Press, 9781573448130, 244pp.
Publication Date: August 7, 2012
* Individual store prices may vary.
Description
Rachel Kramer Bussel is at the top of her game in BDSM erotica and now shares the pleasure in a one-of-a-kind book, custom-made for couples. Anything for You is stimulating reading, both for experienced players and those just discovering the joy of tying up your lover or bending over for the one you love these explicit stories of obsessive desire unlock the door to a world of obsessive desires, the passion that lies just beneath the skin. Bondage is the stuff of fantasy for a shockingly large segment of the population and true happiness is discovering what makes your partner tick. In this case, it might well be the tickle of rope on naked skin, or a firm paddling. Rachel Kramer Bussel's is a guidebook to great sex, told story by delicious story of uninhibited, adventurous sex sure to keep the home fires burning Each boldly wrought tale shared with your lover is another door opened into the erotic mindscape.
About the Author

Rachel Kramer Bussel (rachelkramerbussel.com) is a writer, editor, event organizer and erotica writing instructor. She's edited over 60 anthologies, including The Big Book of Orgasms, Come Again: Sex Toy Erotica, Dirty Dates, On Fire, Spanked, Please, Sir, Please, Ma'am, and is Best Women's Erotica of the Year series editor. Her nonfiction has been published in The New York Times, The Washington Post, Marie Claire, O, The Oprah Magazine, Elle.com, Salon, Slate, Time.com, The Village Voice and numerous other publications. Follow her @raquelita on Twitter and learn more about her writing workshops and consulting at EroticaWriting101.com.

Praise For Anything for You: Erotica for Kinky Couples…
"This stimulating read is both for experienced players and those just discovering the joy of tying up your lover. Anything For You is a collection of sexy stories of uninhibited, adventurous sex by the county's best erotic writers. Each boldly-wrought tale shared with your lover is another door opened into the erotic mindscape." --YourTango

"Each character in these stories shows a tremendous amount of strength and pride. It takes guts to let someone see your innermost desires, and allow them the freedom to grow. There is certainly something for everyone here." --Coffee Time Romance

"Rachel Kramer Bussel's is a guidebook to great sex, told story by delicious story of uninhibited, adventurous sex sure to keep the home fires burning. Each boldly wrought tale shared with your lover is another door opened into the erotic mindscape." --Fresh Fiction

"Anything for You is a sensually thrilling, deliciously explicit, and diverse collection of erotica geared towards sexually adventurous couples looking for new inspiration. Anything for You is a collection that displays a vast array uninhibited couples who love hard and play hard with equal abandon. I have read a few anthologies by Rachel Kramer Bussel and have quickly associated her with superior erotica that is both scintillating and literary. This book is easily both. I was very happy to find that this book easily balances a wide range of sexual fantasies and a healthy mix of sexual orientations all geared towards those couples who like bondage and sex toys in their relationships. This is yet another exciting collection of tales that will keep you up into the wee hours of the morning. You will enjoy this book whether you have a partner or not- but you might just want to call up an ex or find a new person after you finish this book, it is that good." --Night Owl Reviews

"This scintillating collection provides some very stimulating reading for both men and women - Five stars." --Jade Magazine