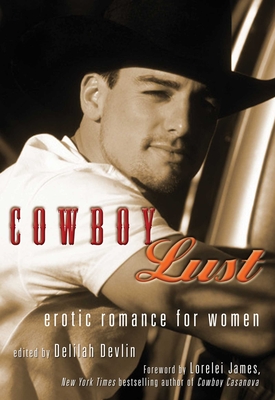 Cowboy Lust
Erotic Romance for Women
Paperback

* Individual store prices may vary.
Other Editions of This Title:
MP3 CD (5/3/2016)
Description
There's a reason Western romance novels never go out of fashion. The cowboy is an iconic figure embodying the dichotomy of the fiercely independent, earthy alpha male juxtaposed with the male as a nurturer and protector. Cowboys take care of their women in every possible way. Wild and wayward women are gentled by the scent of horse and cow and the sight of sun-kissed skin, the feel of work-hardened thighs and arms, and the sound of a deep-voiced Texas drawl. Contributors at the top of the Western romance genre, including Charlene Teglia, Randi Alexander, and Cat Johnson, have corralled here strong and memorable characters ranging from a rodeo star and a cop on horseback to a feisty female gunslinger. Traversing romantic settings from Montana, Texas, California, Mexico, and the Outback of Australia, the stories in Cowboy Lust are risky and risqué, full of studs in spurs hot enough to send you to a vacation on a dude ranch!
Praise For Cowboy Lust: Erotic Romance for Women…
"Cowboys are a timeless passion of many and this anthology in its entirety really delivers that to the reader." --Romancing the Book
"Cowboy Lust delivered everything that I love about cowboy novellas. There was lots of passion, plenty of adventure and even some mystery that had alpha heroes making sure that the heroines remained safe. All of the novellas were entertaining, but in saying that, some were more enjoyable than others especially the ones from some of my favourite authors including Delilah Devlin, Cat Johnson and Cari Quinn. Moreover, the sex scenes were quite explicit in each story which made for some steamy reading that I'm sure were about to set the pages on fire at times." --The Romance Studio
"What is it about cowboys that gets us all ramped up? The dirt and sweat? The smell of horse? The rough "man's man" aspect that many of these guys exude? It's got to be something, because I don't usually pick up books that promise stories of coupling without all that much amour involved. I think it must be that in my fantasies, the cowboy is a gentleman with a code of honor and a strong work ethic, perhaps cleaner and sweeter smelling than real life, who works hard, loves even harder, and whom women, small children, and animals all adore. (Hey, it's my fantasy, and I'm sticking with it.)" --BookWenches
"COWBOY LUST is a wonderful erotica collection of short stories about cowboys and the women who love them… a must read for any lover of erotica." -Fresh Fiction
"If you've a hankering for an erotic cowboy you'll adore it. Cowboy Lust will rope, hog-tie and hot brand you if you let it." --Romantic Fiction
"Wow!!! What a great collection of stories. I couldn't find a single one that I didn't love. From contemporary to historical, each was perfect and a terrific way to find some new authors to read." --Night Owl Reviews
"This book wasn't just well written smut, it was a collection of finger-licking fabulous fables of lust bound up and presented to the reader." --Kissin Blue Karen
"Cowboy Lust is a bevy of hot, hard cowboys ready to give you more than an 8 second ride. Believe me, you don't want to miss this collection. I savored each story like a piece of delicious chocolate, one bite at a time." --Beth Williamson, author of Hell for Leather
"When taking the elements of a traditional western and adding in an erotic romance, you get the best of both worlds--a smokin' hot, take charge cowboy who gets the girl in the end, rather than riding off into the sunset alone. It's gratifying in erotic western romance, to finally kick that bedroom door wide open and see just what the heck makes that man tick. To get a front row seat to his hidden passion, his sexual inventiveness, and to witness the sweetness that a tough man will show only to the woman who owns him, heart and soul. Because cowboys are a breed apart, it takes a special lady to see beneath that gruff exterior. A woman willing to unlock that passionate side, any time, anywhere--against the barn, or in a dusty pickup, over a hay bale or in a soft bed at the end of a long day. A woman that knows actions speak louder than words. A woman who understands that once you've had a cowboy's boots under your bed and a big, strong body keeping you hot every night, you'll never settle for anything less. Feeling that tingle of lust yet? Luckily, there are several great short stories in store for you, to kick that lust into high gear. Can I get a yee-haw? My hat is off to all the great contributors to Cowboy Lust! Readers are in for a real treat--so sit back, prop your boots up on the coffee table, and enjoy the ride." --From the foreword by Lorelei James
— Reviews
Cleis Press, 9781573448147, 244pp.
Publication Date: August 7, 2012
About the Author
Delilah Devlin is a rising star in the world of erotica and romance. Her titles include Cowboy Lust, Into the Darkness, Seduced by Darkness, Darkness Captured, Down in Texas, and Texas Men. Her short stories have been featured in Zane's Purple Panties, Girl Crush, Fairy Tale Lust, Lesbian Lust, Carnal Machines, and Passion. A USA Today best-selling author, she lives in Arkadelphia, AR.