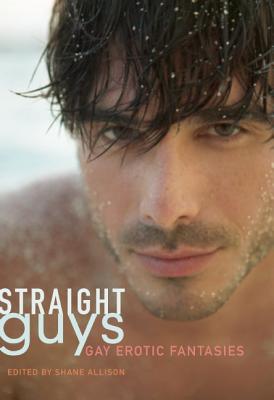 Straight Guys: Gay Erotic Fantasies (Paperback)
Gay Erotic Fantasies
Cleis Press, 9781573448161, 214pp.
Publication Date: September 18, 2012
* Individual store prices may vary.
or
Not Currently Available for Direct Purchase
Description
GAYBIE award-winning editor Shane Allison has cooked up some hot plots and even hotter action in his bold new book where boundaries blur. Gorgeous guys who can get any woman (or guys) they want and know their power. Allison has curated a heady mix of fiction and true life stories about the sex lives of straight guys when nothing is what it seems, when it's never just black or white.
Straight Guys range from husbands on the down low to boyfriends sneaking away from their girlfriends for late night trysts with other men. to sudden encounters where you just can't say no, Allison and his contributors don't shy away from new erotic territory in this exploration of one of the foremost gay fantasies -- sex with Straight Guys.
About the Author
Shane Allison has been published in countless literary journals and publications, such as "McSweeney's," Velvet Mafia, "Mississippi Review, New Delta Review," and Outsider Ink. He is the editor of "Backdraft" and "Hot Cops." His stories have also appeared in anthologies such as "Best Black Gay Erotica," "Truckers," and "Cowboys." He lives in Tallahassee, FL.
Praise For Straight Guys: Gay Erotic Fantasies…
"The best part of any argument (in my opinion) is not the end when you have won but the moment before when the other person realizes that they are wrong. A heady feeling arises when you watch that realization wash over there face like the first rays of sunlight on a new day. I mention these sorts of moments occur quite often when a gay man convinces a "straight" male to try having sex with them for the first time. Each tale in Straight Guys: Gay Erotic Fantasies is filled with tiny aha moments like the aforementioned moment. It is a lovely collection of tales filled with a myriad of interesting American men from varying backgrounds, involved in varying levels of kink, each story unfolds in (what I am choosing to believe for fun's sake) a believable manner for an erotic anthology. While this book might be geared towards gay men, this straight woman really enjoyed this book. Shane Allison has constructed an excellent collection of gay erotic content that will leave you breathless from the heat content and left more than satisfied after the book ends."
Night Owl Reviews
Advertisement