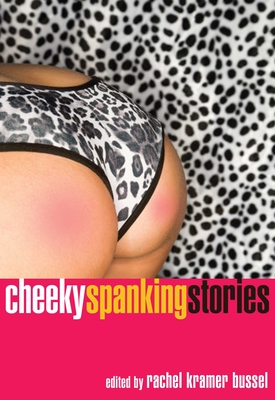 Cheeky Spanking Stories (Paperback)
Cleis Press, 9781573448185, 224pp.
Publication Date: October 16, 2012
* Individual store prices may vary.
Description
Nobody needs (or likes) a spanking more than Rachel Kramer Bussel. And, nobody can spot a good spanking story better than Rachel Kramer Bussel, who has achieved mastery of the genre. Ranging from naughty and nice to fabulously kinky, this set of superb spanking stories will please aficionados as well as readers new to the pleasures of paddle, crop or whip. Author of the bestselling Spanked, Bussel notes "there are an infinite number of ways to talk about the pleasures of spanking. Me? I get off just thinking about bending over for that special someone."
About the Author

Rachel Kramer Bussel (rachelkramerbussel.com) is a writer, editor, event organizer and erotica writing instructor. She's edited over 60 anthologies, including The Big Book of Orgasms, Come Again: Sex Toy Erotica, Dirty Dates, On Fire, Spanked, Please, Sir, Please, Ma'am, and is Best Women's Erotica of the Year series editor. Her nonfiction has been published in The New York Times, The Washington Post, Marie Claire, O, The Oprah Magazine, Elle.com, Salon, Slate, Time.com, The Village Voice and numerous other publications. Follow her @raquelita on Twitter and learn more about her writing workshops and consulting at EroticaWriting101.com.

Praise For Cheeky Spanking Stories…
"Rachel Kramer Bussel did a great job of picking out stories that help span the range of people who just enjoy spanking." --Pop My Cherry Reviews

"Whether you're a giver a receiver, or like me, a voyeur, you're bound to find several gems in Cheeky to leave you poised, panting and ready for a lick or two." --The Real Tenille

"There is so much emotion that goes along with spanking and the stories in this anthology show us just that. There are boyfriends, Doms, students and more. This book has them all. Some giving some taking but all enjoying themselves. Each one leaving an impression on this reader. I enjoyed seeing some characters trying new experiences and others enjoying a well loved pastime. It was nice to see both the men and women on both sides of the spanking and using so many different implements for the spankings but most of all I loved seeing the trust that is given in each story. Cheeky Spanking Stories is a great hot read. Whether you enjoy the spanking or the receiving this book will keep you entertained." --Fresh Fiction

"Cheeky Spanking Stories is a delicious collection of stories for the kinky people out there who enjoy their bottom warmed by their toy of choice, or even just somebody's hand. Rachel Kramer Bussel, a wonderful gift to the genre that attracts Spanking aficionados, or even those who are just learning to love the feeling of warm cheeks, has outdone herself by putting together this collection of stories by various authors. In short, I highly recommend picking up a copy if you're looking to spice up your bedroom life with your significant other. You won't be disappointed by what you're reading if this is your hidden fetish. A little pain can mean a lot of pleasure in the long run." -Night Owl Reviews

"Rachel Kramer Bussel's keen eye for erotic diversity and distinct writing style creates a collective narrative buffet of just and rich desserts. From romantic to punishing, professional to scary, the warmed backsides in Cheeky Spanking Stories remind spanking fetishists that a red behind temporarily improves behavior, and reading about such scenes? Always improves morale." --Sera Miles