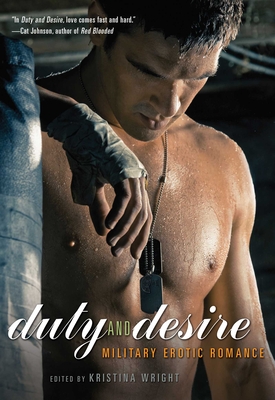 Duty and Desire: Military Erotic Romance (Paperback)
Military Erotic Romance
Cleis Press, 9781573448239, 218pp.
Publication Date: November 13, 2012
* Individual store prices may vary.
or
Not Currently Available for Direct Purchase
Description
The only thing stronger than the call of duty is the call of desire This anthology of military erotic romance serves up a team of hot-blooded men (and women) from every branch of the military who serve their country and follow their hearts wherever they might be stationed. When the mission is done, the unit is recalled or the ship pulls into port, they set their sights on a new target the pursuit of passion and love. In and out of uniform, stateside and abroad, these military warriors meet passion and danger head on. All's fair in love and war in and out of uniform. Edited and with stories by Kristina Wright, wife of a Lieutenant in the U.S. Navy, Duty and Desire includes stories of U.S. soldiers, sailors, aviators, Marines and Special Forces (Navy SEALs, Army Rangers, and many more. Uniforms have never been sexier
About the Author
Kristina Wright had no idea what to expect from military life when she married an enlisted Navy sailor after a whirlwind long distance courtship just three months before the first Gulf War. She can say it may not be for everyone, but it's a hell of a ride! In the over two decades since they said "I do," her husband James has worked his way up the ranks to Lieutenant Commander and she has become an award-winning author whose erotic fiction has appeared in over 90 anthologies. They have lived in three states, endured seven deployments (two while her husband was assigned to Navy Special Warfare) and countless months of underway training exercises and counter narcotics operations, made the happy transition from "snail" mail to e-mail and had two children. Their first son was born in 2009 while James was on an eight month deployment to the Middle East, but he was lucky enough to be stateside when their second son was born in 2011. Inspired by her South Florida roots and tales of drug running and espionage, Kristina received the Golden Heart Award for Romantic Suspense from the Romance Writers of America for her first novel. She is also the editor of six other Cleis Press anthologies, including the best selling "Fairy Tale Lust" and "Best Erotic Romance." She currently lives with her husband and sons in Hampton Roads, VA, home to the legendary SEAL Team Six and the largest naval base in the world.
Praise For Duty and Desire: Military Erotic Romance…
"In the confines of a vintage Mustang, two soldiers just back from Afghanistan head for home. Along the way, they manage to bring new meaning to the phrase "Park and Ride."
Penthouse

"This collection of short stories provides both a stimulating collection of erotic tales and a thumbnail sketch of the various challenges that face the men and women who serve their country by being part of the military. The different perspectives provided by this talented group of authors vividly paint a moment in time that gives an opportunity for lovers to escape the harsh reality of war and separation, sometimes even though they are miles apart figuratively or literally. Many of these authors were new to me but all of them have penned a concise and entertaining read. Duty and Desire: Military Erotic Romance" is an anthology of 18 short stories edited by the talented Kristina Wright. This collection of spicy tales gives a glimpse of the sacrifices and challenges that face those who choose to serve their country. The tales range from delightfully carnal encounters to reminders that those who have been wounded still have a libido although their lovers may have to deal with handicaps, physical and/or mental. Among the many enjoyable entries are Delilah Devlin's The Long Ride Home", a wickedly carnal description of a homecoming for two soldiers whose respective previous relationships didn't survive the stresses of deployment, Christine d'Abo's Wilco" which is a sizzling tale of the role reversal that takes place when a navy woman takes a dominatrix position over her commander, and Kristina Wright's For Better or Worse" that reminds us of the sacrifices that are willingly made and the stolen moments that lovers share that helps them make it through their terms of service."
-Night Owl Reviews

"Be ready to get up close and personal with the military when you pick up this collection. Featuring well-known erotica authors, including Delilah Devlin, J.K. Coi and Christine D'Abo, this anthology will give readers a lot to love. While each story has special meaning, it is Ericka Hiatt's Fighting for Fresno" that stands out as a passion-filled tale, with incredible intimacy and beautifully raw emotion. The 18 short stories that make up this collection take place in different countries and even different times. Many of the stories are heterosexual relationships, but there is also the occasional same-sex couple. The anthology's uniting element is the fact that each couple featured includes military personnel."
RT Book Reviews

"Wright, herself a Navy wife, assembles 18 red-hot tales of men and women in uniform that range from WWII-era Russia to modern-day Afghanistan. While celebrating the valor, not to mention hotness, of those who serve their country, this anthology commendably covers darker issues, including post-traumatic stress syndrome and serious injuries, and love of all kinds, both straight and gay. Perhaps most touching is Sacchi Green's "Sergeant Rae," about two female soldiers sharing their lives together after one becomes a paraplegic saving the other's life in Iraq. Other standouts include Christine d'Abo's "Wilco," which serves up BDSM with a twist-a female junior officer and her submissive male superior-and Michelle Augello-Page's "Home," about a soldier deployed to Afghanistan having a hot webcam tryst with his stateside wife. This touching and realistic lineup is highly recommended. (Dec.)"
Publishers Weekly

In Duty and Desire, love comes fast and hard. From the quintessential military man, to the women who don a uniform and serve beside them, and the loved ones who wait at home for their return, both in the past and the present, the stories in Duty and Desire have it all."
Cat Johnson, author of Red Blooded
Advertisement