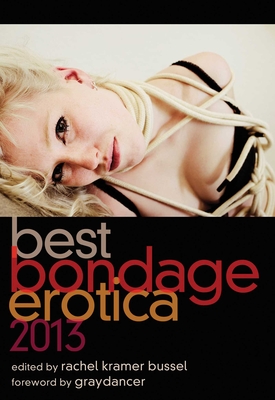 Best Bondage Erotica (Paperback)
Cleis Press, 9781573448970, 219pp.
Publication Date: December 11, 2012
* Individual store prices may vary.
Description
Some say bondage is the ultimate intimacy. Once you have allowed yourself to fully explore your fantasies of giving in and surrendering to pleasure, you may find you need a firm but gentle hand to guide you. Let Best Bondage Erotica 2013 be your guidebook of everything BDSM. Editrix Rachel Kramer Bussel and her writers put it all out on the page in stories using everything from silk ties rope to shiny cuffs, blindfolds, wires and everything you can imagine and MORE. Best Bondage Erotica 2013 offers erotic insight for newbies and experienced players alike. These stories of forbidden desires and sexual fantasies, penned by the masters and mistresses of the genre, will shock, scintillate, and mesmerize.
About the Author
Rachel Kramer Bussel edits the Sex Diaries for "New York Magazine" and hosts SRO readings around the country. Rachel formerly wrote the "Lusty Lady" sex column for "The Village Voice" and was the longtime senior editor of "Penthouse Variations." She has edited the "Best Sex Writing" series since 2008. She is a prolific erotica editor, and her titles include "Spanked, He's on Top, She's on Top, Passion," and "Do Not Disturb." Visit her at rachelkramerbussel.com
Praise For Best Bondage Erotica…
"A sharp, snappy collection, and it has enough talking points to keep you engaged and enraged for a year. These essays are funny, heart-breaking, head-scratching and honest. They're well-written and have lovely moments of poetry and concise, bone-cutting prose. They're varied and unique, but unified in their vision for a world with better sex, and better ways to write and talk about sex. Best Sex Writing 2012 is a step in the right direction."
-xoxo Reviews