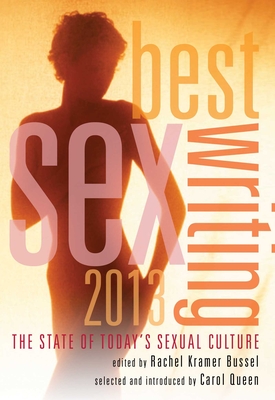 Best Sex Writing (Paperback)
The State of Today's Sexual Culture
Cleis Press, 9781573448994, 229pp.
Publication Date: April 16, 2013
* Individual store prices may vary.
Description
The Best Sex Writing series has has fundamentally changed the way people think and what they say about sexuality. Once again, Rachel Kramer Bussel has collected the year's most challenging and provocative nonfiction articles on this endlessly evocative subject. The essays here comprise a detailed, direct survey of the contemporary American sexual landscape. Major commentators examine the many roles sex plays in our lives in these literate and lively essays. Judged by the Dr. Carol Queen, who is without peer, this stunning collection of sexsmart essays is sure to stir the heart, the brain, as well as other major organs.
About the Author
Rachel Kramer Bussel edits the Sex Diaries for "New York Magazine" and hosts SRO readings around the country. Rachel formerly wrote the "Lusty Lady" sex column for "The Village Voice" and was the longtime senior editor of "Penthouse Variations." She has edited the "Best Sex Writing" series since 2008. She is a prolific erotica editor, and her titles include "Spanked, He's on Top, She's on Top, Passion," and "Do Not Disturb." Visit her at rachelkramerbussel.com
Praise For Best Sex Writing: The State of Today's Sexual Culture…
"I did not find one story among the 20 that was not worth a read. Best Sex Writing 2013 is, as its name boldly states, just that: the best."
Washington Times

"A collection worth reading for the broad overview of the landscape it gives."
Julian Arancia

"Self identified sex geek or not, odds are you'll devour this book. Self identified sex geek or not, odds are you'll find something within its pages that resonates with you. You'll find something liberating, inspiring, and something make makes you think, Huh, I never thought about it that way."
Hands down, this compilation contains some of the best writings of sex and sexuality I have ever read."
Sunny Megatron

"If you want to learn more about a massively varied variety of kinds of sex, ideas about sex, perspectives on sex Best Sex Writing 2013 is a great place to go."
Greta Christina

"Best Sex Writing 2013 is an excellent snapshot of the modern world of sexuality and the stories are diverse ranging from informative, to titillatingand of course provocative."
Danielle Paradis

"I can happily say I've learnt an awful lot about sex from this book and I've enjoyed some truly excellent writing. Even if you're a fiction fan, I would still recommend that you give this one a go because remember what they say, truth can be stranger than fiction or funnier or more moving or sadder and certainly more interesting!"
Tamsin Flowers

"Cleis Press and Rachel Kramer Bussel always deliver quality writing on the topic of sex, and this year's Best Sex Writing is no exception. This collection of 20 essays span a broad range of topics, writing styles, and voices that are all provocative. While a few stirred me sexually, largely this book challenged me to think more."
My Whole Sex Life

"You're going to find something to stimulate thought and debate within these pages; you may even find something that liberates your own sexual feelings."
Victoria Blisse

"This edition has some of my favorite folks writing about sex (Patrick Califia, Melissa Gira Grant, and Madison Young!)"
Feminist Allies

"We as a community of sex educators, activists, workerswe as peopleall have stories to share that are equally important. This is one such book that is as inspirational as it is educational, and it gives a collective voice to people and stories that are long overdue to be heard."
Geeky Nymph

"This collection of essays is, as the blurb on the back of the book suggests, 'challenging, literate and provocative'"
Jason Armstrong

"Edited by Rachel Kramer Bussel and selected and introduced by Carol Queen there are a lot of very interesting articles/essay's upon the modern attitude to sex and the state of today's sexual culture. They do not shy away from saying it how it is and allowing people to widen their perspective. I won't pull out any single piece of writing because in all honesty I couldn't they all have their own slant on the sexual culture and all do it in their own unique and very interesting way."
The Gestalt Boudoir

"If you want to stimulate your largest sex organ your brain grab a copy of this book and let yourself explore the spectrum of human sexual experience. You'll find it as enriching as it is exciting."
Pleasure Mechanics

This is an amazing book. The essays are interesting and unique without being boring. They aren't just rehashing some of the old facts of the year. Instead, they're looking into the history of sexuality as well as seeing how these issues could change the future of sexuality too. All of the essays are well-written and enjoyable to read."
Pop My Cherry

"You'll be as absorbed as I was by most of the essays here. Some are political; some are intensely personal. All are well-chosen and well-written. If you're a sex geek, as I am, you'll devour this book."
Joan Price, author of Naked at Our Age

Praise for the 2012 edition:

"This book highlights not only the diversity of sexual issues prevalent in the public discourse but likewise the importance of all things sexual to human culture . . . Readers interested in sexuality and its role in politics and culture will find something of interest in this eclectic volume. A great opportunity to discover new voices, new sources, and new information on the subject of sex."
Library Journal

"The essays here comprise a detailed, direct survey of the contemporary American sexual landscape . . . Major commentators examine the many roles sex plays in our lives in these literate and lively essays."
Erotic Readers and Writers Association

"This is an exceptional collection of works - one worth owning."
Steve Isaak

"A snapshot of current hot topics" related to sex in the U.S."
SEXpress

"Sober, serious, and though-provoking even when dealing with the most inflammatory of human issues, Best Sex Writing 2012 lives up to its title and is worthy of the highest recommendation."
The Midwest Book Review

"A must-read book, regardless of which sex you like."
Diane Anderson-Minshall, Advocate.com
or
Not Currently Available for Direct Purchase