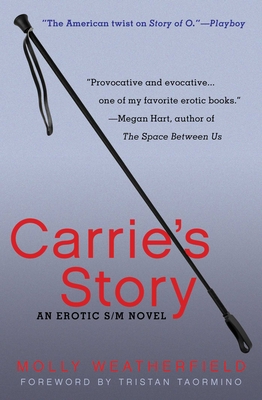 Carrie's Story (Paperback)
An Erotic S/M Novel
Cleis Press, 9781573449083, 212pp.
Publication Date: February 12, 2013
* Individual store prices may vary.
Description
Carrie's Story is regarded as one of the finest erotic novels ever written- smart, devastatingly sexy and, at times, shocking, Molly Weatherfield has penned a book that is standing the test of time alongside The Story of O and Justine in this new era of "BDSM romance," a la 50 Shades of Grey the whips and cuffs are out of the closet and "chateau porn" has given way to mommy porn. Carrie's Story remains at the head of the class, literally. Imagine The Story of O starring a Berkeley PhD candidate in comparative literature, who moonlights as a bike messenger, with a penchant for irony, self-analysis and as well as anal pleasures. Set in both San Francisco and the more chateau-friendly, Napa Valley, Weatherfield's deliciously decadent novel takes you on a sexually explicit journey into a netherworld of slave auctions, training regimes, enticing "ponies," (people) preening for dressage competitions. Desire runs rampant in this story of uncompromising mastery and irrevocable submission.
About the Author

Molly Weatherfield is the penname of Pam Rosenthal, author of Carrie's Story (Cleis, 2002) and the forthcoming romance novel The Bookseller's Daughter (Kensington, 2003). She has written for Salon.com and her writing appears in Susie Bright's Best American Erotica 2000. Pam is also married to Michael Rosenthal, owner of Modern Times Bookstore in San Francisco, CA.

Praise For Carrie's Story: An Erotic S/M Novel…
"Sharply written and sizzling hot, Carrie's Story is a must-read for lovers of smart erotica."
Colette Gale, bestselling author of UNMASQUED: An Erotic Novel of the Phantom of the Opera

A wise, literate and enduring novel about dominance and submission. At each reading, the quality of the writing takes me by surprise and pulls me in again. A wonderful exploration of the literary edge of arousal."
Anneke Jacob, author of the award winning As She's Told

Before there was Anastasia, there was Carrie. A rip-roaring ride through the world of dominance and submission."
Kristina Wright, editor of the Best Erotic Romance series

"Carrie's Story destroyed my writing schedule over the past two days. Wonderful book!"
Cherise Sinclair, author of the Master of Shadowlands series

"Molly Weatherfield set the standard with Carrie's Story and Safe Word."
Annabel Joseph, author of Comfort Object and Mercy

"The modern day Story of O."
-Eden Bradley, award-winning author of The Dark Garden

"What a smart-mouthed, daring heroine, and what a smart, delicious novel! The thinking man's (and woman's, and couple's) BDSM erotica."
Eric Selinger, editor, Journal of Popular Romance Studies

Scary as it is seductive; savage, funny, and with disarming moments of tenderness and charm. You want the world of this book to be real."
Janet Mullany, author of Hidden Paradise

"Provocative and evocative, Jonathan and Carrie's relationship is the perfect example of how not every love story has to be a romance. Carrie's Story holds a permanent place on my shelf as one of my favorite erotic books."
Megan Hart, author of The Space Between Us

"Carrie's Story is no mere novel of sex for the masses, but a brilliantly penned story of mastery and seduction for the smart, literate set. If you crave a tale of dominance and submission that entices readers without demeaning them, Carrie's Story is one that will captivate you to the end. Brave and beautiful, indeed."
Shanna Germain, author of Bound by Lust

"From the very first sentence, I knew Carrie's Story was destined to be a classic of our generation."
Alison Tyler, author of Best Bondage Erotica and Hurts So Good

"This thoroughly engaging novel is destined to become a modern-day classic, beautifully blending an intricate S/M underground world with the erotic flowering of a young, sexy and wry-humored female."
Good Vibrations

"Engrossing and electric"
Babeland

"This book was so hot it was hard to read at work. This reviewer was writing naughty emails to her boyfriend before she'd finished page one, and the weekend that ensued was a blur of delightfully kinky sex. Carrie's Story is extremely well-written for an SM novel -- the protagonist is strikingly intelligent, the story is genuinely interesting and the wonderfully smutty scenes sizzle off the page."
Blowfish.com

". . . unlike anything I have read. It is very graphic in detail and does explain many scenes that may make some readers somewhat uneasy. There was excellent development of characters as the reader is taken through Carrie's exciting journey. Aside from the warning comments, I congratulate Ms.Weatherfield on an extremely wonderful book."
Coffee Time Romance

"A bit of modern erotica that slyly evokes the classics, both as context and as gristle the main character chews upon. Written with wit, style and intelligence, dirty and tough enough for the hardest to please. If you live an urban life, you'll recognize this character. I do! Great smut for those with a literary bent."
Kallisti

". . . partly a Keystone Comedy romp with whips, leather, and chains, partly a stunning tribute to Pauline Reage's Story of O, and partly an odyssey which -- if they did erotic flicks - the Coen brothers might have titled "O, Sister, Where Art Thou?" . . . . There is plenty of juicy, passionate expression in Carrie's Story, but, like much of what we review at Clean Sheets, this is literate smut for the discriminating reader with taste as well as... hmm... let's call them compulsions to exercise the deeper, shadier side of human desires."
William Dean at Clean Sheets

". . . the American twist on Story of O. Weatherfield . . . gives her own take on chateau porn and the seductiveness of submission. . . . bristles with wit."
Playboy.com

"My favorite neo-Victorian erotic romance writer . . . bring on the ponies!"
Susie Bright

"Carrie's Story is a well written and very erotic account of mastery and submission. This story contains some of the most erotic pony girl training sessions I've ever read. I definitely recommend this book for anyone interested in pony training or learning about domination and submission."
Equus

"I was stunned by how well it was written and how intensely foreign I found its sexual world . . ."
Boing magazine

"Most SM fiction takes the shape of bad erotica loosely held together by a plot only good for skimming through while looking for the horny bitsIt's a sheer delight, therefore, to find what is foremost a great novelthat just happens to have an SM theme and pervy characters."
Skin Two magazine

"Hilarious and harrowing . . . just when you think things can't get any wilder, they do."
Black Sheets magazine