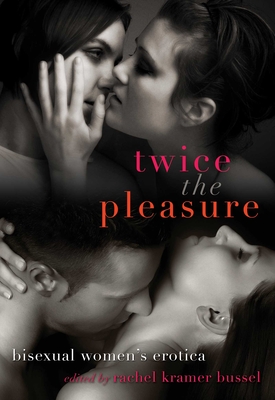 Twice the Pleasure (Paperback)
Bisexual Women's Erotica
Cleis Press, 9781573449243, 232pp.
Publication Date: April 9, 2013
* Individual store prices may vary.
Description
Rachel Kramer Bussel is a card-carrying bisexual. She writes about it, talks about it, blogs about it and probably tweets, too. She is in a great relationship with a BOYFRIEND but once you go bi you never to back. Bisexuality is not about keeping your options open, it is about looking at the world and seeing a lot more sexy. In a Huffington Post, she went on record, stating "I think ideally I'd like to have a male lover and a female lover, either a triad situation or one on one." There is no better erotic mind on the planet better suited to editing Twice the Pleasure than Rachel Kramer Bussel. This big book of bi explores every option -- there are girlfriends and wives, husbands and boyfriends, first dates, threesomes and much more here. There's daring and adventure, women taking risks by stepping outside their comfort zones, whether it's by surrendering to a bodyguard in "The State" by Tahira Iqbal or confronting "The Wife" of a male lover in Kay Jaybee's story, only to be confronted right back. The women you'll read about are attracted to strong women like "The Robber Girl" in Lori Selke's story, and men who surprise them with their sensitivity, such as in Bussel's own story, "A Little Fun."
About the Author

Rachel Kramer Bussel (rachelkramerbussel.com) is a writer, editor, event organizer and erotica writing instructor. She's edited over 60 anthologies, including The Big Book of Orgasms, Come Again: Sex Toy Erotica, Dirty Dates, On Fire, Spanked, Please, Sir, Please, Ma'am, and is Best Women's Erotica of the Year series editor. Her nonfiction has been published in The New York Times, The Washington Post, Marie Claire, O, The Oprah Magazine, Elle.com, Salon, Slate, Time.com, The Village Voice and numerous other publications. Follow her @raquelita on Twitter and learn more about her writing workshops and consulting at EroticaWriting101.com.

Praise For Twice the Pleasure: Bisexual Women's Erotica…
"Buying erotica for someone else is always a balancing act. Double your chances of getting it right with Rachel Kramer Bussel's newest collection featuring twenty-two diverse stories of bisexual desire and abandon." --About.com
"It isn't easy to show bisexuality in a short story for the same reasons that it's difficult to be a bisexual person. That is - people define a character's sexuality by their lover's gender. The contributors to Twice The Pleasure meet the challenge in various ways, from showing a poly couple welcoming another lover to 'just this once' affairs, from 'straight for you' surprises to 'here, we're all queer.'" --Erotica Revealed
"A refreshing compilation of juicy queer stories that actually read as queer." --Sexlife Canada
"Like a friend offering to show you the way, Rachel takes you by the hand and guides you on a celebration of bisexual exploration." --Kink Etc.
"Explores every permutation of bi possibilities." --Erotic Trade Only
"Twenty-two tasty tidbits of erotic goodness." --BDSM Book Reviews
"The book succeeds in delivering a variety of sexual permutations from a variety of women with various perspectives - the result is a broad collection of the landscapes of women's desires." --Portland Book Review
"There is no better erotic mind on the planet better suited to editing Twice the Pleasure than Rachel Kramer Bussel. This big book of bi explores every option -There are girlfriends and wives, husbands and boyfriends, first dates, threesomes and much more here." --Erotica Readers and Writers Association
"Bussel really lives up to her promise to be inclusive, by almost using this anthology to bring readers in from outside of the sex-positive community and allow them to dip their toes into the waters of everything bisexuality could mean."--Bex Talks Sex
"Daring and adventurous, the women in these stories take risks by stepping outside their comfort zones." --Daily Loaf
"There are all kinds of stories here--some are relatively simple but there are others that are complex and just as our society is multicultural, sexuality is multi-faceted. So kick off your shoes and everything if you want and sit back and enjoy several hours of erotic reading pleasure." --Amos Lassen