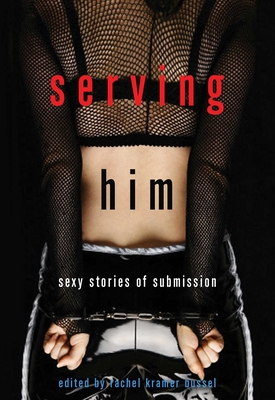 Serving Him (Paperback)
Sexy Stories of Submission
Cleis Press, 9781573449250, 232pp.
Publication Date: April 9, 2013
* Individual store prices may vary.
Description
Who knew that BDSM would become the biggest trend in book publishing? Rachel Kramer Bussel did and has emerged as one of the top writers, editors and experts on the subject. Serving Him pays homage to those irresistible men who control their partners with a glance, a pair of handcuffs, or a firm smack on the bottom. As true tops, the bossy hunks in these stories understand that erotic BDSM is about exulting in power that is freely yielded. Rachel and her coterie of contributors cover the full range of the male dom's brand of sensual sadism, from spanking and bondage to public sex and power exchange.
About the Author

Rachel Kramer Bussel (rachelkramerbussel.com) is a writer, editor, event organizer and erotica writing instructor. She's edited over 60 anthologies, including The Big Book of Orgasms, Come Again: Sex Toy Erotica, Dirty Dates, On Fire, Spanked, Please, Sir, Please, Ma'am, and is Best Women's Erotica of the Year series editor. Her nonfiction has been published in The New York Times, The Washington Post, Marie Claire, O, The Oprah Magazine, Elle.com, Salon, Slate, Time.com, The Village Voice and numerous other publications. Follow her @raquelita on Twitter and learn more about her writing workshops and consulting at EroticaWriting101.com.

Praise For Serving Him: Sexy Stories of Submission…
"If you liked 50 Shades of Grey, then you'll fall in lust with Rachel Kramer Bussel's even hotter BDSM books, like Serving Him and Please, Sir. Although she writes about female submissives, her protagonists legitimately crave and take pleasure in the sex they're having. What's hotter than that?"
-Cosmopolitan

As true tops, the bossy hunks in these stories understand that erotic BDSM is about exulting in power that is freely yielded. Rachel and her coterie of contributors cover the full range of the male dom's brand of sensual sadism, from spanking and bondage to public sex and power exchange.
Erotica Readers and Writers Association

"Stories of bondage, pain, roleplay, and more than a few good, hard spankings are littered throughout, with an overarching (and very queer) theme of the inherent power in submission."
Sex Life Canada

"If you are looking for sexy, real, and action packed short stores; this book is a must have."
50 Shades of Rediscovering Love

"Serving Him is one of the best Bussel-edited anthologies I've read."
Steve Isaak

"The stories here cover the full range of sensuality connected to male dominancespanking and bondage, public and private sex and power exchange. Gaining power only happens when it is yielded. The stories are kinky, fun and erotic. Many of these stories are quite intense and border between joy and feartwo very strong emotions. There are dungeon scenes and regular bedroom sceneseverything depends on the participants and the pleasure they gain. Everything to make a sexual experience more pleasurable is herefrom toys to handcuffs. It is all about pleasure and enjoymentthe same feelings you will get from reading these stories."
Amos Lassen

"The strength of this book lies in its diversity. The authors explore a broad spectrum of the erotic dance between the strong, seductive dominant male and the strong woman who thrives and blooms when she submits. The dance takes many forms in the twenty-two stories that the editor has carefully chosen for us. As a reader, you can tell this book was put together with care given the selection of well written stories with a variety of plots and kinks. There is something for every reader of erotica who enjoys D/s and BDSM as well as those who just enjoy very sexy tales. The excitement and intensity of the tales go from subtle and delicate to direct and strong, even a bit rough at times. I will add that if you have a significant other, whether dominant, submissive, curious, or in between, then this is a book you can share. Who knows? You may learn a new trick or two or find a little inspiration. Or you may just live vicariously as a voyeur through the adventures and trysts of the characters. You will find well planned scenes and quicker interactions. There will be spanking, ropes, bondage, showers and all forms of delicious games in this collection."
The Itinerant Librarian

"What I love most about a well-constructed "sexy story" anthology is that there's theoretically something for everyone between the covers. No two stories should bare too much (if any) similarity, and the topics, characters, and events should push a plethora of boundaries. This little number, edited by Rachel Kramer Bussel (a Cleis Press favorite), does measure up in these regards."
-Lustful Literate