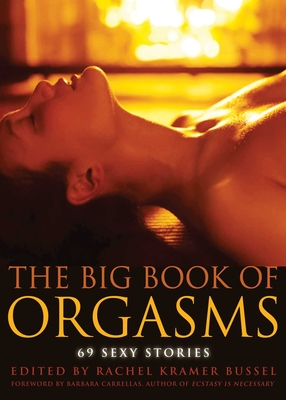 Big Book of Orgasms
69 Sexy Stories
Paperback

* Individual store prices may vary.
Description
What happens when you bring together 69 authors sharing their hottest orgasm stories? If you have top notch erotica editor Rachel Kramer Bussel, you get The Big Book of Orgasms! This climactic collection captures top erotica writers serving up steamy scenarios all focused on The Big O. Whether getting off from exhibitionism, voyeurism, or a very special pair of blue jeans, the characters in The Big Book of Orgasms explore all sorts of ways they can come. Go "Under the Table" with Elizabeth Coldwell and cheer for "The Pink Team" by Kelly Rand. Discover the thrill of hot wax and even hotter sex; these short stories bring the heat on every page! With a foreword by Ecstasy is Necessary author Barbara Carrellas, these are climaxes you'll want to relive again and again.

Dr. Ruth once said about Rachel Kramer Bussel, "she is only satisfied if you come and come again." With this rousing read, The Big Book of Orgasms counts all the wonderful ways women get off. Inspirational as well as aspirational, this book celebrates women's sexuality by reaching new heights of excellence. Each of the 69 stories about "the big O" is a peak experience in and of itself.
Praise For Big Book of Orgasms: 69 Sexy Stories…
"Short and sweet is the name of the game with this collection. You won't get long, languorous tales, but you will get stories that are designed to get you hot and bothered in a flash."
Retail Me Not

"One of my favorite erotica anthologies of the past year (of all time, even) has to be The Big Book of Orgasms,edited by Rachel Kramer Bussel. It's got 69 stories, of varying lengths, and there's something in it to get just about anyone with any type of taste aroused. Great present and a great tease for sexy things to come "
Jillian Boyd, Lady Laid Bare

"I'm going to enjoy this book for many orgasms to come!"
Septimus Reviews

"In Rachel Kramer Bussel's latest release, there are at least 69 different ways to come, every one more delicious than the last. Within these pages, characters discover new and ever more satisfying ways to find the big O, and the range of pleasure is fun, steamy, and explores the wild spectrum of pleasure."
City Book Review

"This book shows orgasms in all their varied glory and I have no doubt it will inspire many folk's erotic encounters for a long time to come!"
Secret Pleasures Boutique

"Orgasms for everyone! Quickies galore! This naughty anthology is full of one-handed reading": sexy stories that cover a broad range of fantasies, fetishes, kinks, and experiences, each story suitable for a single sitting. The Big Book of Orgasms is a must own collection for any erotica fan."
Tattooed Book Review

"This book would be great to read with a partner or at a sexy gathering. Sharing these tiny morsels erotica would be a great way to get a sexy evening started. They can also be read when you need a little solo time. There's so much delightful variety in this book, I know I will go back to enjoy them again."
Life on the Swingset

"There's a story for everyone in this book from romantic, public play, kinky, solo play and much more!"
Reviews by a Nerd

"If I had to use only three words to describe The Big Book of Orgasms they would be: Creative, Explosive, and Hot!"
Sexologist Vixenne

"Rachel Kramer Bussel has quickly become my favorite author and editor and when you read this book it's easy to see why. Her works always reflect real sex with real people, not fantasies written by those who've never experienced them. With each book I've read of hers, it's evident that she pours her heart and soul into her work. If you have never had the pleasure of reading one of her works, I highly recommend you don't put it off any longer. I promise you won't be disappointed."
Kink Etc

"With each new story, a different kink or passion is explored, drawing out the reader's attention and keeping it from from foreplay, to climax, to post sex snuggling. Either read one at a time or as one solid novel, this book has something for everyone."
Bitches N Prose

"If you are looking for a book that will make you happy, satisfy you deepest darkest desire, and fulfill your lust filled fantasies, I suggest you add The Big Book Of Orgasms to your shopping/reading list right now!"
Clitical

"Rachel Kramer Bussel has assembled a tome of orgasmic delight in her scorching anthology, The Big Book of Orgasms. Filled to the brim with 69 sexy stories penned by the creme de la creme of erotic authors, there is a story for everyone that is sure to insight, excite and enflame."
Literary Vixens

"While it's hard to choose just one book of erotica to cap off the year, The Big Book of Orgasms is definitely up there. Esteemed erotica editor Rachel Kramer Bussel brought together 69 authors for this one, which features a heaping helping of the good stuff intense, earth-shaking orgasms."
She Bop

"Saying that you'll be eager to relive each of these stories more than once is a serious understatement. Not only will you be left wanting to relive some of these stories, you will undoubtedly find yourself wishing to experience some of these for yourself."
Night Owl Erotica

"A goldmine of erotica that will get under your skin and into your heart."
Bare Naked Lady

"There is a great deal of diversity, sexual and otherwise, in The Big Book of Orgasms."
Asbury Pulp

"I highly recommend checking out The Big Book of Orgasms because it's easy to read, is super sexy, and can be worked into anyone's time schedule. Whether you read it alone or read it aloud to help spice up foreplay, it's the perfect bedside companion!"
Property of Potter

"Every imagined way of orgasm is covered, and maybe some that hadn't been imagined as well. There is something here for everyone, whether LGBT, vanilla or kink, you will find it here. Scintillating, and at times scorching, these stories are."
Madison Kink

"The stories are well written and surprising. They are personal and political, and each one pushes taboo and reminds us that sex is much stranger and more varied than we think."
The Daily Californian

"The stories are short, so choose your hand or vibrator speed carefully. Don't be surprised when you have to dog-ear pages to return to your favorites. You'll want to revisit these stories. Or should I sayyou'll want to come again."
Weekly Alibi

"We humans can eroticize anything. Feeling better? You should. And whether you're an erotica regular, a dedicated lover, a dirty squeeze, or an orgasm virgin."
San Francisco Bay Guardian

"This is one of Bussel's best!"
Kitty Stryker

"Climaxes you'll want to relive again and again."
Erotica Readers and Writers Association

"What makes this book easily one of the most exciting Cleis Press titles I've read all year is the level of reality and humanness presented in the stories."
Slixa

"I recommend reading this brand new anthology of erotic short stories. Short, hot and steamy revelations. An excellent bedside companion for youself or story time with a partner."
Columbus Free Press

"This imaginative book of adult fun is great book for ideas with that special someone. They are all different, not one is like another. Great to read to that special someone for a little added spice or to read alone and share what you learned later."
Networking Witches

"Hot stories and people getting off six (or 69) ways from Sunday."
Malfic

"This book certainly lives up to its title. While never wavering from mainstream sexual tastes, there's an admirable amount of variation in the lust play and shadings. If you're looking for a light-hearted erotica romp anthology, this may be the collection for you."
Reading by Pub Light

"These are great little stories by well-known authors and each one is worth picking up the book."
Romancing the Book

"69 sexy stories from seasoned erotica writers as well as newcomers to the genre, all writing very different tales about how their characters achieve the Big O in 1,200 words or less. This climactic collection features all sorts of sexualities, characters and ways of getting off."
Erotica UK

"Erotic editor Bussel (Baby Got Back) proves less is more in this collection of nibble-size erotic stories that are just long enough to fuel the imagination."
Publishers Weekly

"Rachel Kramer Bussel will help you find your inner 50 shades."
On Milwaukee

"It would be impossible for me to pick a favorite story from this collection because so many of them resonated with orgasms past or piqued my curiosity to explore ones I've yet to discover."
A.C. James, author of Cursed Ever After
Cleis Press, 9781573449632, 378pp.
Publication Date: October 15, 2013
About the Author
Rachel Kramer Bussel is the editor of over 70 anthologies featuring over 700 authors, including The Big Book of Orgasms and the Best Women's Erotica of the Year series. She writes widely about sex, dating, books and pop culture, and has contributed to over 100 erotica anthologies, including Best American Erotica 2004 and 2006. She teaches erotica writing workshops online and in person and consults with authors via EroticaWriting101.com. Follow Rachel @raquelita on Twitter. Her books have won the IPPY (Independent Publisher) Award for Erotica and the Samois Anthology Award from the National Leather Association-International and she is the winner of the Living in Leather John Preston Award