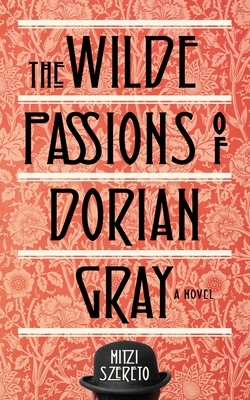 The Wilde Passions of Dorian Gray (Paperback)
Cleis Press, 9781573449656, 216pp.
Publication Date: November 19, 2013
* Individual store prices may vary.
Description
Inspired by Oscar Wilde's classic novel The Picture of Dorian Gray, Mitzi Szereto's Wilde Passions of Dorian Gray continues where Wilde left off with the Faustian tale of a man of eternal youth and great physical beauty who lives a life of corruption, decadence and hedonism. The story begins in the bordellos of Jazz-Age Paris, moving to the opium dens of Marrakesh and the alluring anonymity of South America. In his pursuit of sensation and carnal thrills, Dorian's desires turn increasingly extreme and he leaves behind yet more devastation and death. He ultimately settles in present-day New Orleans, joining with a group of like-minded beings known as The Night People. They inadvertently return to Dorian his humanity when he falls in love with a young woman he rescues from becoming their victim. She will be his redemption, but she will also be his final curse.
About the Author
Mitzi Szereto is an author and anthology editor of erotic and multi-genre fiction and nonfiction. She has her own blog, "Errant Ramblings: Mitzi Szereto's Weblog" (mitziszereto.com/blog), and a Web TV channel, Mitzi TV (mitziszereto.com/tv), which covers the "quirky" side of London.

Her books include the controversial Jane Austen sex parody "Pride and Prejudice: Hidden Lusts; Red Velvet and Absinthe: Paranormal Erotic Romance; In Sleeping Beauty's Bed: Erotic Fairy Tales; Getting Even: Revenge Stories; The New Black Lace Book of Women's Sexual Fantasies; Wicked: Sexy Tales of Legendary Lovers; Dying For It: Tales of Sex and Death;" and the "Erotic Travel Tales" anthologies. A popular social media personality and frequent interviewee, she has pioneered erotic writing workshops in the UK and Europe and lectured in creative writing at several British universities. She divides her time between England and Atlanta, GA.
Praise For The Wilde Passions of Dorian Gray…
"Dorian is a bastard, but it's a fantastically well-told story [] It confirms once and for all that Szereto is a well-rounded and talented novelist."
Erin O'Riordan, author of Pagan Spirits

"This is the book that Wilde wishes he could have written a century agocomplete with the explicit, naughty details. I'm sure he would be grinning from ear to ear as he read this creative new book, inspired by his own imagination."
Geeky Nymph

"Let this book be a sin that you let yourself experience." - So So Gay

"Far from a typical reworking of the original, Mitzi Szereto uses her love of Wilde's book to reimagine a life for Dorian Gray that explores so much more than Wilde's intentions."
The Jeep Diva

"The Wilde Passions of Dorian Gray takes Oscar Wilde's Creation to new levels of sin."
The Novel Approach

"The fascinating tale of Dorian Gray continues in this creatively styled tale of sin and redemption. Ms. Szereto's unique writing style brings a sense of the everyday man to the supernatural figure of Dorian Gray. With its erotic twists and turns, this story of decadence is not for the faint of heart."
Coffee Time Romance

"This is strong writing, as is to be expected from a celebrated author of Szereto's calibre. The WIlde Passions of Dorian Gray excites where it needs to, relays a compelling narrative, and continues the story of one of literature's most enduring characters. Definitely worth the read."
Erotica Revealed

"If you enjoy exceptional writing and can enjoy a book for what it is, please consider picking The Wilde Passions Of Dorian Gray
Mr Wills House of Thrills

"If you like erotica, historical English Novels, murder and more? This book is for you!"
Networking Witches

"The Wilde Passions of Dorian Gray is Gothic decadence at its best and will titillate and shock you until the very last page!"
Popular Literary Reflections

"It takes a brave writer to attempt to finish Wilde's story. Mitzi Szereto does so beautifully and with lyrical prose. She has modernized the story and she gives us a main character that is impossible to forget. What I really like is that she has taken a classic story and made it hers without harming a word of the original and making the sequel a reading guilty pleasure."
Reviews by Amos Lassen

"The Wilde Passions of Dorian Gray is first rate escapist reading with lots of interesting plot twists and turns. It is not for the homophobic."
The Reading Life

A debauched adventure through time and decadence! Szereto brings an authentically classic' voice to this modern tale of Dorian Gray, who descends from masterminding orgies to slavishly sodomitical obsequiousness to ultimately staging cruel seductions using his ageless beautydeeds that can only serve to make his well-hidden portrait grow more monstrous. A sequel that would make Oscar Wilde blush!"
John Everson, author of Siren and NightWhere

"Mitzi Szereto writes this compelling story with poetic fluency. Wilde Passions of Dorian Gray is a hedonistic rush that doesn't shy away from the darker side of passion. I loved it!"
Sam Stone (author of The Vampire Gene Series

"Adventurous sex, Paris, New Orleans and countless exotic locations plus a dash of the supernatural: how could I not have loved Mitzi Szereto's new novel about the very much alive afterlife of Oscar Wilde's wonderfully dissolute character? It touches all my buttons and begs to be read after dark..."
- Maxim Jakubowski

"Mitzi Szereto never ceases to amaze with her originality and daring. Her imagination seems limitless. In this intensely sensual novel, a hedonistic Dorian Gray is conjured up as never before. With extraordinarily lyrical prose, she paints a portrait of Dorian that will stay with you forever. "
Janice Eidus, author of The War of the Rosens and The Last Jewish Virgin

Szereto's elegantly written novel picks up where Oscar Wilde left off with the continued adventures of the corrupt and seductive Dorian Gray, a man blessed (or cursed?) with eternal youth and a portrait that ages in his stead. Gray's hedonistic adventures take him from Paris to Marrakesh and beyond as he explores increasingly extreme and inventive debaucheries. Sizzling erotica that would make Oscar Wilde blush!"
Lucy Taylor, author of The Safety of Unknown Citiesand winner of the Bram Stoker Award for Best First Novel
or
Not Currently Available for Direct Purchase