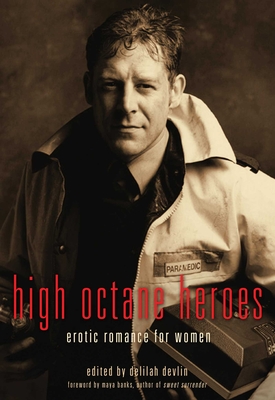 High Octane Heroes
Erotic Romance for Women
Paperback

* Individual store prices may vary.
Other Editions of This Title:
Digital Audiobook (9/2/2013)
Description
Heroes inspire lustful fascination. Worthy of High Octane Hero status, kickass iconic heroes enter danger zones in the name of duty, honor, country, and even love. These rugged men conjure images of hard, chiselled bodies, laser-sharp gazes and stark, camouflaged features. Get ready for high-octane, smoldering-hot adventures, featuring these "super alpha" heroes and the strong women who wage heated battles for their hearts. In "Beseiged," a special forces soldier rescues his lover from an embassy takeover. In "The Star," an American Air Force pilot and a grieving British woman find solace in each other's arms. A sexy SWAT team leader saves a rookie during a bungled undercover assignment in "Renegade." And get ready for an undercover cop who flexes more than his "Big Guns." Set in war-torn regions of the world and in your own neighborhoods, High Octane Heroes delivers passion, danger and heart.
Praise For High Octane Heroes: Erotic Romance for Women…
"i love men in uniform and was excited to see a whole anthology full of stories based on them. HIGH OCTANE HEROES: EROTIC ROMANCE FOR WOMEN edited by Delilah Devlin is a great anthology that will pull readers in with its hot and sexy characters. This book gives readers fifteen different stories. There are so many men to choose from in these stories from cops and firefighters to prison guards and all that comes in between. Each story has its merits making it hard for me to choose just one favorite out of so many. Each story gives readers an alpha male that shows us why woman and men are so drawn to them. I loved these hot and fast paced stories." -Fresh Fiction
"Another lovely title from Cleis Press. This erotic romance anthology is dedicated to a love of the red-blooded male, the "super-alpha," the guy who dominates any situation, who's usually in uniform, who faces danger, dodges speeding bullets, arrests the bad guy, rescues the damsel, and gets said damsel in the end." --San Francisco Book Review
"Serious alpha males who are ready to swoop in and save the day, steal a few hearts, and set fire to the sheets." --Publishers Weekly
"High Octane Heroes will satisfy the reader who craves the romantic idea of that 'super alpha' man.'" --Erotica Readers and Writers Association
"The delightful combination of various writing styles that focus on different aspects of what makes an alpha male so romantic and heroic provide vivid examples of the various factors which mold these complex men who are driven to serve and protect." --Night Owl Reviews Top Pick
"This is a great read and a fantastic way to while away a few hours dreaming of hunks and heroes and sexy situations. Do yourself a favour and get this book. You won't regret it!" --Manic Readers
"Turn on the air, grab a cold drink and relax as you do some real hero worship." --Reviews by Amos Lassen
"If you like hot this is sizzling [...] This added some pizzazz to my libido and that is always welcome in my loving relationship with my husband!" --Networking Witches
— Reviews
Cleis Press, 9781573449694, 232pp.
Publication Date: August 13, 2013
About the Author
Delilah Devlin is a rising star in the world of erotica and romance. Her titles include Cowboy Lust, Into the Darkness, Seduced by Darkness, Darkness Captured, Down in Texas, and Texas Men. Her short stories have been featured in Zane's Purple Panties, Girl Crush, Fairy Tale Lust, Lesbian Lust, Carnal Machines, and Passion. A USA Today best-selling author, she lives in Arkadelphia, AR.Jo Davis lives in Wylie, TX.
or
Not Currently Available for Direct Purchase