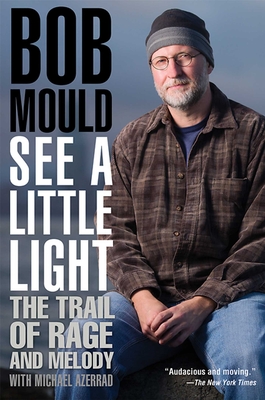 See a Little Light
The Trail of Rage and Melody
Paperback

* Individual store prices may vary.
Other Editions of This Title:
Digital Audiobook (6/14/2011)
Hardcover (6/15/2011)
Description
Bob Mould stormed into America's punk rock scene in 1979 when clubs across the country were filling with kids dressed in black leather and torn denim. And at its center a new band out of Minnesota called Hüsker Dü was bashing out songs and touring the country on no money driven by the inspiration of guitarist and vocalist Bob Mould. In See a Little Light Mould tells his dramatic story for the first time. Revealing the struggles with his own homosexuality the complexities of his intimate relationships and his drug and alcohol addiction Mould takes us on a whirlwind ride through achieving sobriety his acclaimed solo career creating the hit band Sugar a surprising detour into the world of pro wrestling and finally finding his place in the world. A classic story of individualism and persistence Mould's autobiography describes the rich history of one of punk's most revered figures whose driving force altered the shape of American music.
Praise For See a Little Light: The Trail of Rage and Melody…
"As a long time fan, I feel so grateful that Bob chose to share his life story in such a candid and open manner. See A Little Light stands tall with the greatest rock and roll memoirs of all time."
Benjamin Gibbard, Death Cab for Cutie

'Bob mould's incredible journey is an inspiring one. I hope to one day be able to write a book like this, to live like this, to rock like this, but in the meantime, I can read this. A poetic and devastating memoir from one of the greatest artists of all time. I love Bob Mould.'
Margaret Cho

"Ultimately, it's [Mould's] ongoing quest to transform himself from an isolated and work-obsessed individual into someone who's actively involved with his community and lover on multiple levels that informs his life's storyand which makes See a Little Light such a compelling and rewarding read."
ForeWord Reviews

"Bob Mould's revealing memoir written with Michael Azerrad, would make a great gift for the music-lover on your list. Mould, who played in groundbreaking bands such as Husker Du and Sugar, was that rare commodity in the alternative and college rock scene, an out gay man."
The Bay Area Reporter

"See a Little Light tells of Mould's struggles with homosexuality, personal relationships and various addictions, but this is not just another titillating rock 'n' roll memoir ... It's a clear, plain account of one troubled musician's life, with a lively and happy ending."
Chicago Sun-Times

" After all, if you take my word for it, See A Little Light is a treat, an absolutely-first-tier rock autobiography."
LA Weekly

"[A] brutally honest autobiography tour de force."
Village Voice

See A Little Light is not a memoir, it is an autobiography. Bob Mould's story is an entertaining, funny, intensely-inspirational and perhaps the consummate tale of human spirit and willpower in the hands of a master. As well as a great narrative history for casual to fanatical fans of Bob's myriad endeavors (Husker Du, Sugar, Bob Mould solo, etc), See A Little Light is also the story of one of our era's great rugged individualists."
-Andrew Earles, author of Husker Du

"More than just another punk rock memoir, See A Little Light"is an open-hearted testament to one self-made man's undying, unflagging, undeniable voice, and an inspiring tale of spiritual and musical growth that deserves a spot on the shelf of any serious DIY or GLBT library. In the end, I read it mostly as a love letter of explanation to Mould's alcoholic and angry father, and as an amazingly self-aware (and often deliciously good-humored) meditation on how son channeled dad's shared rage into sobriety, music, catharsis, and redemption. Riveting stuff."
Jim Walsh, author of The Replacements: All Over But The Shouting: An Oral History and The Replacements: Waxed Up Hair and Painted Shoes: The Photographic History

"The critic Lester Bangs used a phrase, imperative groin thunder," to describe the loud, raw music he loved most. Mr. Mould's music brings that kind of thunder. Some of the time, and in surprising ways, so does his book."
Dwight Garner, New York Times

"Any number of veterans of the punk and post-punk campaigns of the 1980s could pack a memoir with endless drives in the van, bad food and bad contracts, shoestring recording sessions, hellhole nightclubs, sleeping on floors and all the other genre touchstones. A select few could also explore the conflicts, rewards and drawbacks of wider popularity, and the challenges of sustaining a musical life into advanced adulthood. But there's only one who could do all that and also describe dealing with his unresolved homosexuality and, why not, going to work plotting the story lines in professional wrestling. Those last two elements definitely distinguish Bob Mould's autobiography from the predictable pack, and should keep readers from feeling they're on an endless van ride themselves."
Richard Cromelin, LA Times

"Mould captures something of his terrific will, which is a great gift."
NPR

A blunt, bracing and astonishingly confessional look back at a man who's produced some of the best rock music of the last 20 years."
Patrick Beach, Austin American Statesman

Mould never fails to captivate and inspire."
Publishers Weekly

As satisfying as [Mould's] best work...compulsively readable."
Ben Westhoff, Washington City Paper

"Brisk and enjoyable...urgently personal."
NPR's "Books We Like"

Offers an emotional depth and level of insight absent from most musical biographies."
Biblioklept

"His story is one of persevering and becoming one of the forces that changed American music."
Amos Lassen
Cleis Press, 9781573449700, 420pp.
Publication Date: October 29, 2013
About the Author
Bob Mould is am American musician singer-songwriter producer and DJ. An original member of the influential 1980's band Hüsker Dü he released several albums after the band separated including Workbook Body of Song and Life and Times as well as Sugar's legendary album Copper Blue. He lives in San Francisco.
or
Not Currently Available for Direct Purchase