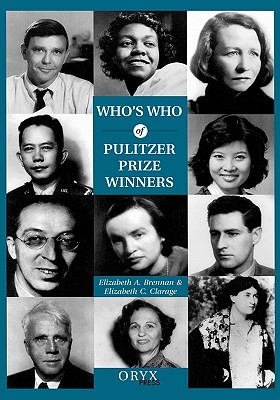 Who's Who of Pulitzer Prize Winners (Hardcover)
Oryx Press, 9781573561112, 688pp.
Publication Date: December 17, 1998
* Individual store prices may vary.
Description
Established in 1917 by publisher Joseph Pulitzer, the Pulitzer Prize is now awarded in 21 categories, including investigative reporting, news photography, drama, poetry, music, and others. It continues to be the most coveted honor in journalism. Yet while many publications have been written on the topic of the Pulitzer Prizes, none has provided basic factual information on all of the winners. This new reference tool profiles each of the more than 1,100 individuals who have received this honor from 1917 through 1998. Entries include the winner's name, year and category for the Pulitzer Prize(s) won, birthdate, family, education, career summary, other awards won, list of selected works, and where to locate additional information. Several entries also include photos of the winner.
About the Author
ELIZABETH A. BRENNAN is currently a freelance information specialist. She has worked at the Ford Foundation, Columbia University Libraries, Newsweek magazine, and most recently at the ABC News Research Center.ELIZABETH C. CLARAGE is assistant professor of library administration at the University of Illinois at Urbana-Champaign. Previously she held the positions of journalism librarian and journalism faculty liaison at Columbia University. Clarage holds an M.S. degree in library and information science from the University of Illinois at Urbana-Champaign.