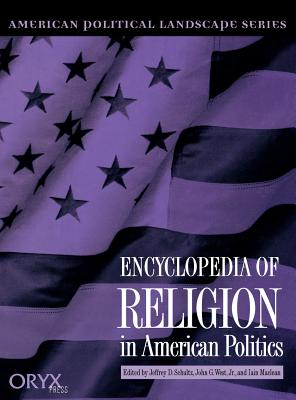 Encyclopedia of Religion in American Politics (American Political Landscape) (Hardcover)
Greenwood, 9781573561303, 424pp.
Publication Date: December 14, 1998
* Individual store prices may vary.
Description
Today, such issues as abortion, capital punishment, sex education, racism, prayer in public schools, and family values keep religion and politics closely entwined in American public life. This encyclopedia is an A-to-Z listing of a broad range of topics related to religious issues and politics, ranging from the religious freedom sought by the Pilgrims in the 1620s to the rise of the religious right in the 1980s.
About the Author
Jeffrey D. Schultz is president of Jeffrey D. Schultz & Co., Inc. He has taught political science and history at a number of colleges, including White Pines College and Colorado College. He was the associate editor for the two-volume Encyclopedia of the Democratic Party and the two-volume Encyclopedia of the Republican Party. He is currently editing a book on presidential scandals.John G. West, Jr., is assistant professor of political science at Seattle Pacific University and Senior Fellow at the Discovery Institute in Seattle. He has written numerous articles, speeches, and presentations on the subject of American politics and the role of religion in American politics. West holds a PhD in government from Claremont Graduate School.Iain Maclean is assistant professor of Western-religious thought, Department of Philosophy and Religion, at James Madison University in Harrisonburg, VA. He has written several articles, speeches, and presentations on the subject of religion and society. Maclean holds a ThD in religion and society from Harvard Divinity School.