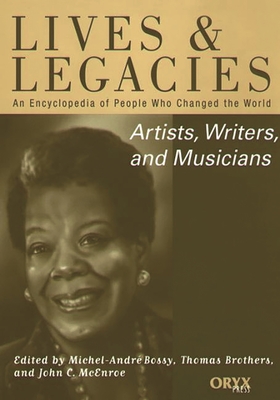 Artists, Writers, and Musicians (Hardcover)
An Encyclopedia of People Who Changed the World (Lives & Legacies (Oxford))
Oryx Press, 9781573561549, 256pp.
Publication Date: October 1, 2001
* Individual store prices may vary.
Description
Disney's animated trailblazing, Dostoyevsky's philosophical neuroses, Hendrix's electric haze, Hitchcock's masterful manipulation, Frida Kahlo's scarifying portraits, Van Gogh's vigorous color, and Virginia Woolf's modern feminism: this multicultural reference tool examines 200 artists, writers, and musicians from around the world. Detailed biographical essays place them in a broad historical context, showing how their luminous achievements influenced and guided contemporary and future generations, shaped the internal and external perceptions of their craft, and met the sensibilities of their audience.
About the Author
MICHEL-ANDRE BOSSY is Professor of Comparative Literature and French Studies at Brown University. His publications include studies of troubadour lyrics, the creation of medieval romances and song anthologies. He is the translator and editor of Medieval Debate Poetry: Vernacular Works (1987).THOMAS BROTHERS is Associate Professor of Music at Duke University, where he teaches African-American music and medieval music. He is the editor of Louis Armstrong: In His Own Words (1999) and Chromatic Beauty in the Late-Medieval Chanson (1997).JOHN CRAIG McENROE teaches art history at Hamilton College. His most recent publications include Pseira V. The Architecture (forthcoming), and Critical Perspectives (co-editor with Deborah Pokinski, forthcoming).