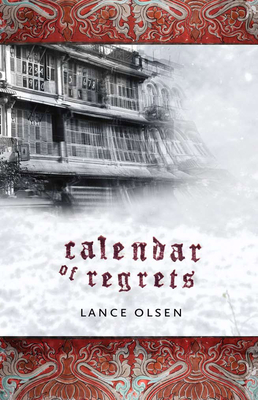 Calendar of Regrets
Paperback

* Individual store prices may vary.
Description
Calendar of Regrets is a wildly inventive and visually rich collage of twelve interconnected narratives, one for each month of the year, all pertaining to notions of travel—through time, space, narrative, and death.
The poisoning of the painter Hieronymus Bosch; anchorman Dan Rather's mysterious mugging on Park Avenue as he strolls home alone one October evening; a series of postcard meditations on the idea of travel from a young American journalist visiting Burma; a husband-and-wife team of fundamentalist Christian suicide bombers; the myth of Iphigenia from Agamemnon's daughter's point of view—these and other stories form a mosaic, connected through a pattern of musical motifs, transposed scenes, and recurring characters. It is a narrative about narrativity itself, the human obsession with telling ourselves and our worlds over and over again in an attempt to stabilize a truth that, as Nabokov once said, should only exist within quotation marks. View a trailer for the book here: www.youtube.com/watch?v=hZvaLi91Blk 
Praise For Calendar of Regrets…
"Lance Olsen misbehaves in all sorts of grave and playful ways. He throws Hieronymus Bosch in the mix with Agamemnon; God in the mix with the devil. Here are postcards, podcasts, and fairy tales; terrorism and angels; aphasia and aneurysym; bludgeonings and vacuous friendships. Calendar of Regrets is a spectacular synthesis, a wild ride through a free mind. I have never read anything like it." 
—Noy Holland, author of What Begins with Bird
"Perhaps no other American author writes as expansively and insightfully as Lance Olsen about what it means to be alive at this place, at this time. The power of Calendar of Regrets comes from the ease with which it convinces its readers that the most astonishing thing about life is that we are here at all: the surreal visions of Hieronymus Bosch are no more vivid than the religious minds of suicide bombers; a tourist's experience of an exotic country; or the moment when a teacher realizes that her students will never change. Page after page, Olsen places us in the position of those first travelers in hot-air balloons whose shift in perspective allowed them to see the world they lived within as though for the first time. The long view provided by the many private metamorphoses in this novel allows a portrait of posthumanity where forms endure, and each of us is a time traveler through them: a tour de force of elegance, thought, and transcendence."
—Steve Tomasula, author of TOC: A New Media Novel  
"Calendar of Regrets
ultimately reminds us of the ways that art and narrative doggedly navigate that thin line between the drive for order and the deep-seated realization that the universe that greets us each morning has only increased its entropy overnight."--
Rain Taxi
Fiction Collective 2, 9781573661577, 456pp.
Publication Date: September 25, 2010
About the Author
Lance Olsen is Professor of English at the University of Utah and author of ten novels, one new-media text, four critical studies, four short-story collections, and a textbook on fiction writing, as well as editor of two collections of essays about innovative contemporary fiction. He is Fiction Editor at Western Humanities Review.   
or
Not Currently Available for Direct Purchase