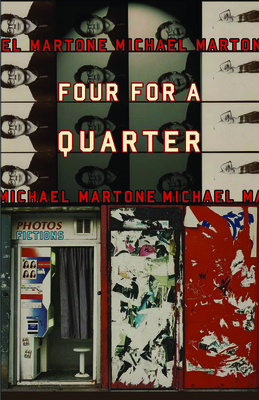 Four for a Quarter
Fictions
Paperback

* Individual store prices may vary.
Description
Normal0falsefalsefalseMicrosoftInternetExplorer4 Four is the magic number in Michael Martone's
Four for a Quarter
.  In subject—four fifth Beatles, four tie knots, four retellings of the first Xerox, even the sex lives of the Fantastic Four—and in structure—the book is separated into four sections, with each section further divided into four chapterettes—
Four for a Quarter
returns again and again to its originating number, making chaos comprehensible and mystery out of the most ordinary. 
Normal0falsefalsefalseMicrosoftInternetExplorer4
Praise For Four for a Quarter: Fictions…
"Forty years ago, when I was four times four and Michael Martone was four, we both had offices on the fourth floor of the fourth best university in the US. Even before I met Michael, I was forewarned of his forthright flare. These stories fortify my early impressions. We are fortunate to have them."--Jane Smiley 

Normal0falsefalsefalseMicrosoftInternetExplorer4"Reading Michael Martone's FOUR FOR A QUARTER is like flipping through radio stations in your car in the middle of the night in West Texas, a wash of wonderful elegiac fragments, memories, anecdotes, haunting bits and pieces of ordinary days, from Beatles' backstories to the Eat Mor Chikin cow, from Santa Claus to baseball under the lights to six sad ways to lose a baby.  Always engaging, at times funny, utterly affecting, this remarkable collection leads us through a dizzying collage of times, places, people and things, sights and sounds at once thrilling and scary. You'll have a hard time putting it down, and when you do, you'll be eager to get back to it. A masterful performance."--Frederick Barthelme

"Udders & Teats: Old Red, who got fed PBB fire retardant; Ada, full of hardware; Elsie, built like a steer; Bambi, who used to put her foot in the bucket about once a week (so I had to give the milk to the barn cats). Later we milked a goat, and we felt diminished."--Bonnie Jo Campbell
Fiction Collective 2, 9781573661638, 312pp.
Publication Date: September 5, 2011
About the Author
Michael Martone is a Professor of Creative Writing in the Department of English at the University of Alabama. He is the author of several books including The Blue Guide to Indiana and Michael Martone.
or
Not Currently Available for Direct Purchase