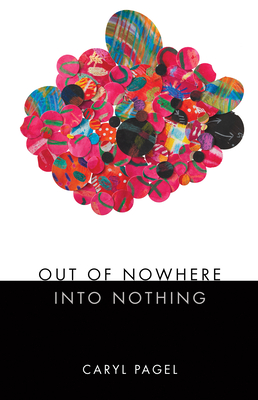 Out of Nowhere Into Nothing
Paperback

* Individual store prices may vary.
Description
Essays on the apparitional, the incomprehensible, and the paranormal in conversation with art, travel, and storytelling
 
The ghosts—literal and figurative—that drive our deepest impulses, disturb our most precious memories, and haunt the passages of our daily lives are present in this collection of sublime meditations on the unbelievable, the coincidental, and the apparitional. Often containing reflections on the art of storytelling, Caryl Pagel's essays blend memoir, research, and reflection, and are driven by a desire to observe connections between the visual and the invisible. The narrator of Pagel's essays explores each enigma or encounter (a football coach's faked death, the faces of women walking, historical accounts of hallucinations, a city's public celebration gone wrong) as an intellectual detective ascending a labyrinthine tower of clues in pursuit of a solution to an unreachable problem: always curious, and with a sense of profound wonder.
 
Out of Nowhere Into Nothing is a sprawling, highly associative consideration of the ways in which the observed material world recalls us to larger narrative and aesthetic truths. Interspersed with documentary-style photographs, Pagel's first collection of prose is a radiant, obsessive investigation into the mysteries at the center of our seemingly mundane lives.
 
Praise For Out of Nowhere Into Nothing…
"Pagel is an investigative reporter carefully picking her way through the seemingly random and yet intricately related igneous rocks that form the spiral jetty of her mind. What does it mean for a woman to be "lost in thought," doing "nothing," and how does she find her way? By carefully piecing together the connections between the art, psychical events, and people that have led her to the place of writing. Pagel's prose is a marvel. I stayed up late into the night reading this book, all too willing to be lost in (her, my) thought."
—Barbara Browning, author of The Gift
 
"I appreciate Out Of Nowhere Into Nothing for how gently and generously it cares for the flawed and faulty machine of memory. Pagel is a thoughtful and skilled storyteller, weaving together narratives in a way that centers itself on trust and reliability. Reading this book was like hearing from an old friend, and having all of your favorite recollections painted back in."
—Hanif Abdurraqib, author of Go Ahead in the Rain: Notes to a Tribe Called Quest

"Out of Nowhere Into Nothing is a radical retelling of loneliness. With the ribbonlike precision of Woolf and Sebald, Pagel writes like 'a ghost in the company of ghosts.' Each essay reads not like a honeycomb, but like a ghostcomb. Each essay is shaped like a mass of hexagonal cells that contains the uncontainable: inside jokes, hallucinations, grief, love, art, nothingness, and the swell of being. I love Pagel's poet brain. 'Here,' writes Pagel, 'there were flowers growing through tree stumps.' She reminds us of what we cannot afford to miss or forget or never know."
—Sabrina Orah Mark, author of Wild Milk

"Oh, what to make of this book! The words gush out like an open fire hydrant. Coincidences, strange occurrences, stories, historical events: Caryl Pagel, in her book, Out Of Nowhere Into Nothing, links them all together into a seamless world of wonder. Her prose is dense, full of elliptical clauses and turns of phrase."
—The Teacher's View

"In Out of Nowhere Into Nothing, there is no 'nowhere,' just as there is no 'nothing.' We cannot, as a matter of fact, conceive of what such a work would look like. The success of this collection lies in Pagel's attempt to bring us as close as she can to that space. By concentrating on what haunts us, what we testify to as well as where our homes are—our place in the world—she opens a distance wherein we can contemplate the nowhere and nothing of our existence. There we realize that to go out of nowhere and into nothing, we must find our place while simultaneously losing our ground. That is to say, we realize that this distance is something—and so are we."
—EcoTheo Review

"The ten essays in Caryl Pagel's recent collection cycle through memory and place and art and hearsay and ghosts, adumbrating a worldview oceanic in its openness and deeply compassionate in its lavish attention. The view from here is mesmerizing: un- and enfolding, keen, strange, lithe, always surprising and often very funny.… What's astonishing is how the essays manage to pull off so much at once. They tell and retell stories, the absorbing currency of someone good at parties. But also they revel in piercing self-reflection plus pervasive existential terror. They adroitly thread pop culture, conceptual art, and the life and times of 19th century notables. They are rife with immoderate delights at the sentence level, alliteration, odd syntax, gorgeous flights of description.… Pagel's memory and research, insight and digression, do not break any spells so much as cast more, to enfold and refract through further story. The invitation here is to give ourselves over, eyes wide open, to the essay's wilder enchantments."
—Cleveland Review of Books
 
Fiction Collective 2, 9781573661867, 164pp.
Publication Date: September 15, 2020
About the Author
Caryl Pagel is associate professor at Cleveland State University, where she teaches poetry and nonfiction in the NEOMFA program. She is author of two collections of poetry, Twice Told and Experiments I Should Like Tried At My Own Death. Pagel is cofounder and editor at Rescue Press and director of the Cleveland State University Poetry Center.
 
or
Not Currently Available for Direct Purchase