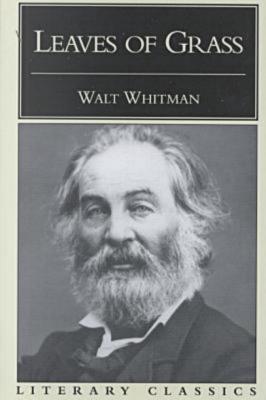 Leaves of Grass (Paperback)
Prometheus Books, 9781573920407, 427pp.
Publication Date: September 1, 1995
* Individual store prices may vary.
or
Not Currently Available for Direct Purchase
Description
In his quest for a truly native idiom, Walt Whitman (1819-1892) incarnated the American geography and its people in a new and transcendent poetic form. His monumental work, Leaves of Grass, celebrates sexuality, gender equality, and the astonishing beauty of the everyday. For Whitman, "The true use for the imaginative faculty of modern times is to give ultimate vivification to facts, to science and to common lives, endowing them with glows and glories and final illustriousness which belong to real things, and to real things only." This complete edition of Leaves of Grass, which includes "Sands at Seventy" (from November Boughs) and "Good-bye My Fancy," contains those poems that have become part of the great American literature, including "Song of Myself," "When Lilacs Last in the Dooryard Bloom'd," "I Sing the Body Electric," and "O Captain, My Captain.
About the Author
WALT WHITMAN, one of the great innovators in nineteenth-century Anglo-American literature, was born in West Hills, Long Island, on May 31, 1819. The fact that there were Quakers on both sides of Whitman's family may explain his indifference to religious orthodoxy as well as his insistence on the importance of individual experience and private charity. When Whitman was still a child, his father, a carpenter, moved his family to Brooklyn. After attending school for only five years, Whitman went to work as an office boy; later he worked as a printer and a journalist, with a brief stint as a rural school teacher. Whitman was dismissed from his job as editor of the Brooklyn Eagle (1846-48) for espousing such "radical" causes as abolitionism and opposition to capital punishment. From there he joined the staff of the New Orleans Crescent, which gave him the opportunity to see the interior of America. Although Whitman had had little formal education, he read voraciously from the literary classics and the Bible, and was deeply influenced by Goethe, Carlyle, Emerson, and Sir Walter Scott. Having begun to experiment with poetry in 1847, Whitman returned to Brooklyn to live with his parents and to begin work on Leaves of Grass in 1851, supporting himself meanwhile with part-time work as a carpenter. He also spent time roaming the city, finding in its people, occupations, and nightlife material for his poems. Leaves of Grass first appeared in a privately printed edition in 1855; it celebrated Whitman's love of the everyday and rejected, as the poet himself later put it in the preface to November Boughs (1888), "the conventional themes ... none of the stark ornamentation, or classic plots of love and war, or high, exceptional personages of Old World song; nothing, as I say, for beauty's sake--no legend, or myth, or romance, nor euphemism nor rhyme." Whitman would embrace instead "the working-man and working-woman." As the self-proclaimed poet of "Sex and Amativeness, and even Animality," Whitman included sexually explicit and homoerotic themes (as in his group of poems titled "Calamus"). Although the first edition of Leaves of Grass was warmly greeted by part of literary America--Ralph Waldo Emerson praised it as "the most extraordinary piece of wit and wisdom that America has yet contributed"--the book did not sell well. Whitman continued to earn his living by performing undis-tinguished hack work; nevertheless, he labored unceasingly at his poetry, honing his peculiarly oracular style. Between 1856 and 1892, nine more editions of Leaves of Grass would be pub-lished, each incorporating new collections of poems. During the Civil War, Whitman worked as a volunteer nurse to both Union and Confederate soldiers; after the war's end, he was offered a clerkship in the Office of Indian Affairs but was soon dismissed for being the author of the "infamous" Leaves of Grass. Friends secured for Whitman a post at the attorney general's office, where he remained until suffering the first of a series of strokes in 1873, which left him a partial invalid. Whitman moved to Camden, New Jersey, where he first lived with his brother George and later, when his finances permitted, in his own small house. Recognition of Whitman's genius came slowly; but in the last years of his life he was honored both in America and in Europe, and even looked on by some as the founder of a new religion of political and sexual liberation. Walt Whitman died in Camden, New Jersey, on March 26, 1892.
Advertisement