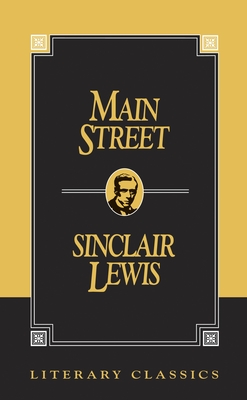 Main Street (Paperback)
Prometheus Books, 9781573920483, 459pp.
Publication Date: March 1, 1996
* Individual store prices may vary.
or
Not Currently Available for Direct Purchase
Description
The first of his major novels of the 1920s, Sinclair Lewis's Main Street satirizes the manners of the American Midwest. Here is the story of Carol Kennicott, who, to be accepted, must adapt to the ways of Gopher Prairie, Minnesota. This ground-breaking novel attacks conformism, commercialism, moneygrubbing, and the decline in what Lewis saw as the American ideals of freedom and respect for individuality.
About the Author
HARRY SINCLAIR LEWIS was born, the son of a physician, in Sauk Centre, Minnesota, on February 7, 1885. Unattractive and unpopular as a youth, Lewis, at the age of seventeen, escaped his small town to enroll at Oberlin Academy in Ohio, in preparation for entrance to Yale University. It was at Yale that Lewis realized his ambition to be a writer. Dropping his first name, he began to contribute poetry and stories to the campus magazines. Lewis left Yale in his senior year to try his hand at freelance writing and to live and work at Helicon Hall, Upton Sinclair's experiment in community living in New Jer-sey. Following his failure at these ventures, Lewis returned to Yale, taking his degree in 1908. For the next two years Lewis worked as a journalist, and from 1910 to 1915, as an editor at various New York publish-ing houses. Following the publication of his first serious novel, Our Mr. Wrenn (1914), Lewis married Grace Livingstone Hegger, who worked at Vogue magazine. With the gradual success of his short stories, which began appearing in the Saturday Evening Post and other periodicals, Lewis could give up work as an editor and devote his full time to writing. Main Street, Lewis's sixth novel and his first major success, was published in 1920. The first of Lewis's great novels of the 1920s, it drew on his experience in Sauk Centre. Set in Gopher Prairie, Minnesota, it satirized the conformity and narrow-mindedness of Middle America. Lewis would broaden his attacks on American provincialism, commercialism, racial big-otry, religious fundamentalism, and fascism with his novels Babbitt (1922), Arrowsmith (1925), Elmer Gantry (1927), Dodsworth (1929), and later, It Can't Happen Here (1935) and Kingsblood Royal (1947). Despite the success of his novels (he won the Nobel Prize for literature in 1930) and the great wealth they earned, enabling him to live in both the United States and Europe, Lewis's personal life was dogged by unhappiness. After divorc-ing Grace Hegger in 1928, he married the newspaperwoman Dorothy Thompson, but that marriage soon fell apart. His son by his first wife was killed in World War II. Lewis's last years were plagued by alcoholism and loneliness. He died, alone, in Rome on January 10, 1951.
Advertisement