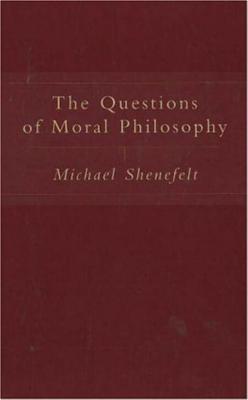 Questions of Moral Philosophy (Hardcover)
Humanity Books, 9781573926386, 165pp.
Publication Date: May 1, 1999
* Individual store prices may vary.
or
Not Currently Available for Direct Purchase
Description
In this appreciation of philosophy's most engaging features, Professor Michael Shenefelt takes the reader, in his own words, on a "stroll through the gardens of the discipline, where I hope to point out some of the more interesting sights." Drawing on his nineteen years' experience in teaching intellectual history, Shenefelt discusses in a conversational tone most of the authors typically assigned in a Western Civilization course. He covers not only epistemology and metaphysics, but morality and politics as well.

Shenefelt writes for those with no formal training in philosophy, discussing many of the perennial questions. Among other things he explains how Plato and Kant dealt with the question: Why be moral?; how Aristotle and the Stoics answered the question: What is the good life?; how Jeremy Bentham (who provided in his will for his own mummification) tried to reduce all moral questions to a mathematical calculus of pleasure and pain. He also considers such timely issues as: Are some races intellectually superior?, Is democracy a blessing?, Is Marxism still tenable?, and Why does God permit evil?

Stating that his only purpose is to entertain by walking his readers down philosophy's royal road, Shenefelt dedicates his excursion especially to the young, who may find philosophy both pleasing and inspiring.
About the Author
Michael Shenefelt taught the well-known "Contemporary Civilization" course at Columbia University for many years. He is now a Master Teacher at New York University's General Studies Program.
Advertisement