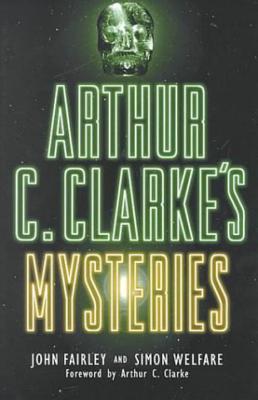 Arthur C. Clarke's Mysteries (Hardcover)
Prometheus Books, 9781573928335, 256pp.
Publication Date: September 1, 2000
* Individual store prices may vary.
Description
The best of the many intriguing mysteries recounted in the popular, long-running television series Arthur C. Clarke's Mysterious World and Arthur C. Clarke's World of Strange Powers are here collected in one fascinating volume. Those who enjoy a good detective story and whose imaginations are fired by the unexplained will revel in these accounts of real-life conundrums that continue to baffle science.

What two-legged beast could have produced the unusual footprints photographed in the Himalayas in 1978? Is it possible that our vast oceans contain gigantic, hitherto unknown sea creatures which occasionally surface and terrorize ships? How were the huge, perfectly spherical stone balls in the wilderness of Costa Rica produced? Will we ever understand how prehistoric peoples could have created the massive landscape drawings of South America, which are completely visible only from the air? These are just a few of the tantalizing enigmas that continue to elude scientific explanation.

Authors John Fairley and Simon Welfare lead the reader on a thoroughly interesting investigation into all of these incredible phenomena and more. To each case Sir Arthur C. Clarke also offers his own analysis, full of the wit and intelligence that are his trademark. As he states in the introduction, "The Universe is such a strange and wonderful place that reality will always outrun the wildest imagination."
About the Author
John Fairley and Simon Welfare (London, UK) are documentary film makers and writers who have worked in British television for many years.

Sir Arthur C. Clarke (Colombo, Sri Lanka) is the award-winning writer of innumerable works of science fiction and nonfiction, the most famous being his novel and screenplay 2001: A Space Odyssey. Among his many awards are three Hugos and three Nebulas for science fiction, the order of Commander of the British Empire "for cultural services in Sri Lanka" in 1989, a nomination for the Nobel Peace Prize in 1994, and a knighthood "for services to literature" in 1998. He has lived in Sri Lanka for the last thirty years.
or
Not Currently Available for Direct Purchase