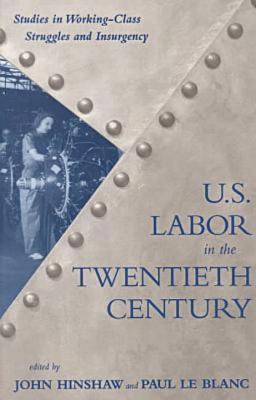 U.S. Labor in the 20th Century: Studies in Working-Class Struggles and Insurgency (Paperback)
Studies in Working-Class Struggles and Insurgency
Humanity Books, 9781573928656, 397pp.
Publication Date: September 1, 2000
* Individual store prices may vary.
or
Not Currently Available for Direct Purchase
Description
Americans generally like to think of themselves as members of a "middle-class country." Yet even amidst a booming economy the living standard of most Americans is lower than it was a generation ago. Although the longest bull market in history recently captured much attention in the media, the majority of Americans do not own any stock. And every newspaper has a lengthy business section devoted to the stock market, while none has a section dedicated to the interests of workers.

In this context, U.S. Labor in the Twentieth Century offers an overview of the hidden history of American workers. Essays by Harry Braverman, Lizabeth Cohen, Elaine Bernard, and John Russo et al. offer lively, readable introductions to the field of Working Class Studies. Noted scholars such as Manning Marable, Nelson Lichtenstein, Dan Georgakas, and Joe Trotter delve into questions concerning the ethnic, racial, and gender diversity of the working class. Paul Le Blanc, Ed Mann, and Mark McColloch explore the history of labor radicalism and the effects of affluence and consumerism on workers. A final section examines how and where workers are headed in today's economy.

This lively and easy-to-follow overview of U.S. labor will prove useful to undergraduates of both twentieth-century history and labor history.
About the Author
John Hinshaw (Lebanon, PA) is assistant professor of history at Lebanon Valley College, and the author of Steel and Steelworkers: Class Conflict and Race in Twentieth Century Pittsburgh.

Paul Le Blanc (Pittsburgh, PA) is professor of history at La Roche College and the author of many books on the labor movement, including A Short History of the U.S. Working Class. He is also the consulting editor for Humanity Books' Revolutionary Studies series.
Advertisement