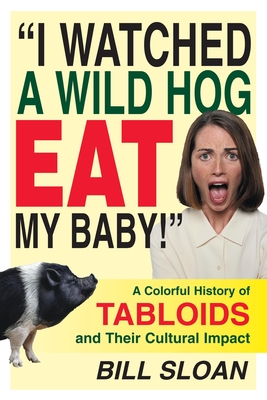 I Watched a Wild Hog Eat My Baby
A Colorful History of Tabloids and Their Cultural Impact
Hardcover

* Individual store prices may vary.
Description
This lively, entertaining, and often funny history of America's supermarket tabloids is the first book to offer a behind-the-scene's look at the intriguing world of tabloid journalism, and especially the unique personalities that made it such a tremendously successful and influential force in today's media. Perhaps no one is more qualified to give the complete insider's account of the tabs than Bill Sloan, who helped guide the destinies of three major tabloids in their heyday. Sloan profiles the publishing eccentrics who conceived the first national tabloids, the greedy owners and screwball executives who called the shots, the ruthless underworld manipulators who fed off of the tabloids' phenomenal success, and the money-driven journalists who did the dirty work. He also discusses the widespread influence of the tabloids today on television journalism and the Internet, where the distinction between news and entertainment is quickly vanishing.
This enjoyable, eye-opening account is must reading for anyone interested in the people and the trends that shape our popular culture.
Prometheus Books, 9781573929028, 251pp.
Publication Date: March 1, 2001
About the Author
Bill Sloan (Dallas, TX), now a freelance writer, held editorial management positions at National Enquirer, Globe Communications, and National Feature Syndicate, and was a Pulitzer Prize-nominated investigative reporter and feature writer for the Dallas Times Herald.