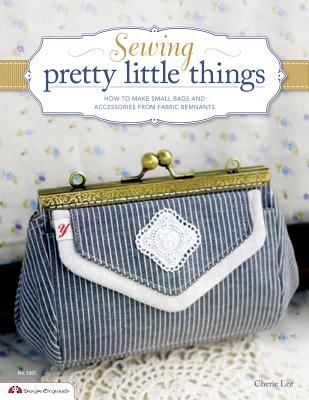 Sewing Pretty Little Things: How to Make Small Bags and Clutches from Fabric Remnants [With Pattern(s)] (Paperback)
How to Make Small Bags and Clutches from Fabric Remnants [With Pattern(s)]
Design Originals, 9781574216110, 125pp.
Publication Date: November 1, 2013
* Individual store prices may vary.
or
Not Currently Available for Direct Purchase
Description
Sewing Pretty Little Things shows how to use small pieces of fabric to make big impressions. This book is packed with creative ideas for using fabric scraps and remnants in classic, beautiful designs. The authors show how to give new purpose to a special piece of fabric, by transforming it into an attractive coin purse, an elegant wallet, or a handy clutch. With original projects like journal covers, travel slippers, key fobs, cosmetic cases, and even backpacks, readers are sure to find a use for all kinds of fabrics and patterns. Stunning color photographs illustrate the potential of the craft. Step-by-step instructions make each project easy to create with whatever material is at hand.
About the Author
Cherie Lee has a long history of sewing and designing stunning handmade items in her native Taiwan. In 2006, Cherie established her own handmade brand, Love Catmint, and began attending many creative design events and festivals, which she continues to participate in as both guest and presenter today. In 2008, Cherie began to focus her handmade projects on the softest styles in daily-use accessories, inspired by fabrics, which are the softest materials most people use in their daily life. Since starting her sewing journey, Cherie has been featured in the news and in several magazines, and has published two sewing books on indoor shoes in addition to her fabric remnants book. In 2012, she established Catmint Studio, where she spends her days working on her next batch of impressive projects.
Advertisement