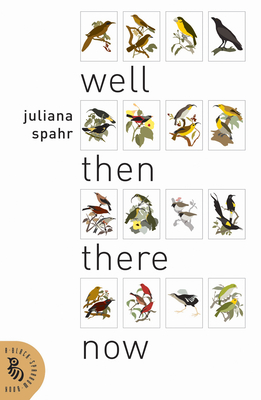 Well Then There Now (Paperback)
Black Sparrow Press, 9781574232172, 155pp.
Publication Date: May 1, 2011
* Individual store prices may vary.
Description
Accretion, articulation, exploration, transformation, sentiment, private and public property these are just a few of Juliana Spahr's interests. In this collection of poetry, she is performing her characteristic magic, turning these theoretical concerns into poetic odyssey.
From her first poem, written in Honolulu, to the last, written in Berkeley, California, about her childhood in Appalachia, Spahr takes us on a patchwork journey backwards and forwards in time and space, tracking change in ecology, society, economies, herself. Through a collage of "found language," a curiosity about place, and a restless intelligence, Spahr demonstrates the vibrant possibilities of an investigatory poetics.
She includes grape varietals, the shrinking of public beachfront in Hawaii, the melting of the polar ice caps, and comparative poverty rates in her eclectic repertoire. She also knows how to sing in the oldest tradition of poetry of loss, and her lament for nature is the most keen.
We come into the world.
We come into the world and there it is.
The sun is there.
The brown of the river leading to the blue and the brown
of the ocean is there.
Salmon and eels are there moving between the brown
and the brown and the blue.
The green of the land is there.
Elders and youngers are there.
We come into the world and we are there.
And we begin to breathe.
We come into the world and there it is.
We come into the world without and we breathe it in.
We come into the world and begin to move between the
brown and the blue and the green of it.
From
"Gentle Now, Don't Add to Heartache"
or
Not Currently Available for Direct Purchase