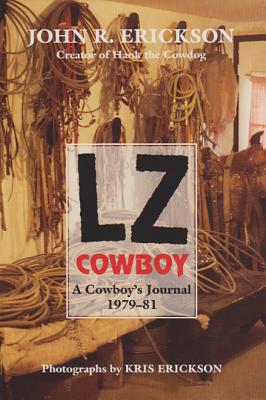 LZ Cowboy
A Cowboy's Journal 1979–1981
Hardcover

* Individual store prices may vary.
Description
In the summer of 1979 John Erickson learned that Lawrence Ellzey was looking for a ranch hand. "Lawrence and his son Tom had a cow/calf and yearling operation headquartered on Wolf Creek, some twenty-five miles southeast of Perryton, Texas, and I was interested in the job. There were many qualities I admired in the Ellzey family, but the one which bound us most closely together was our love of ranch life, in all its forms and expressions: the beauty of a sunset on Wolf Creek; the changes in the weather; pride in horses and horsemanship; an endless curiosity about the land and the peculiar habits of animals; and most of all, work."

This book comes from the journals Erickson kept during his two years as an LZ cowboy. He has always kept journals of his ranch work, some of the material being used for facts and details of Panhandle Cowboy, The Modern Cowboy and Cowboy Country . A second reading of his LZ journals after a twelve-year lapse convinced Erickson that these stories did not need to be rewritten and shouldn't be. They are presented as the "log of a cowboy," to borrow a term from Andy Adams—how it felt to be a cowboy in the Texas Panhandle in the years 1979–1981: the snow, the mud, the cattle drives, the pranks, the accidents, the equipment, the horses, the frustrations, the triumphs.

Hank the Cowdog readers will recognize names, locations, and incidents from the Hank series: Tuerto, Drover, Casey the Bronc, the machine shed, the calf shed, the sick pen, and the gas tanks. High Loper, Sally May, and Slim were originally patterned after Tom Ellzey, Janet Ellzey and Erickson himself.
University of North Texas Press, 9781574410242, 181pp.
Publication Date: May 1, 1997
About the Author
John R. Erickson, born in Midland, Texas, and raised in the Texas Panhandle town of Perryton, is a fifth-generation Texan with ranching roots back to the 1850s. He graduated from the University of Texas and studied at the Harvard Divinity School, but made his living on horseback while pursuing his writing. His Hank the Cowdog series has become a national favorite. He and his wife run their own ranch and commercial beef cattle operation. A member of the Texas Institute of Letters, Erickson has been profiled in Southern Living, American Cowboy Magazine, and on CBS's Evening News with Dan Rather. He is the author of seven books in UNT Press's Western Life Series.
or
Not Currently Available for Direct Purchase