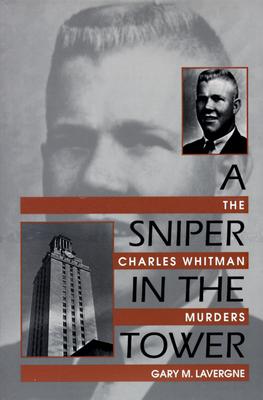 A Sniper in the Tower (Paperback)
The Charles Whitman Murders
University of North Texas Press, 9781574410297, 324pp.
Publication Date: March 1, 1997
* Individual store prices may vary.
Description
On August 1, 1966, Charles Whitman ascended the University of Texas Tower and committed what was then the largest simultaneous mass murder in American history. He gunned down forty-five people inside and around the Tower before he was killed by two Austin police officers. In addition to promoting the rise of S.W.A.T. teams to respond to future crises, the murders spawned debates over issues which still plague America today: domestic violence, child abuse, drug abuse, military indoctrination, the insanity defense, and the delicate balance between civil liberties and public safety.
About the Author
Gary M. Lavergne earned degrees from the University of Southwestern Louisiana and McNeese University. He divides his time between Cedar Park and Austin, Texas, where he is a Senior Assessment Associate for a major educational testing company. His articles have appeared in regional and national historical journals.
Praise For A Sniper in the Tower: The Charles Whitman Murders…
"In an era of seemingly ever larger public massacres and fiendish acts of terrorism, Gary Lavergne masterfully investigates the first such crime that seared the American conscience, Charles Whitman's 1966 rampage at the University of Texas. In Lavergne's skillful hands, and backed up by meticulous research, Whitman's moment of madness is chillingly recreated, and we come as close as possible to understanding the 'why' of mass murder."--Gerald Posner, author of Cased Closed and Citizen Perot

"[A]n outstanding job of chronicling one of the most significant cases in the annals of American crime. . . . Lavergne skillfully researched, documented, and analyzed a case that in many ways defined the concept of 'mass murder.' . . . will likely become a classic in anyone's library of true crime editions."--James Alan Fox, Dean of Criminal Justice, Northeastern University

"Whitman pioneered this country's experience with the one-man public massacre. . . . He 'climbed his tower' to die and take with him as many as he could, for reasons both too logical and implausible to fit the usual notions of insanity. . . . Only the passage of time and America's experience with other mass murders has allowed Gary Lavergne to look back on the Texas Tower sniper with a clearer sense of what Whitman was about, and as an unusually gifted author he does so with a cool, balanced, and yet vivid recounting of the gory mayhem that occurred." --William J. Helmer, Former Contributing Editor, Playboy

"Now . . . we have the first scholarly research . . . on this horrific American tragedy. Lavergne's investigative expertise, his objectivity, and his scientific eye for evidence forms a truly revealing picture of Charles Whitman, until now a fathomless madman."--Neal Spelce, newsman who won national awards for his coverage of the event
"Through painstaking research and exhaustive analysis, Lavergne recreates the tragic and gripping circumstances that led 'all-American' 25-year-old Charles Whitman to gun down 45 people from the University of Texas Tower in 1966."--Publishers Weekly

"In the summer of 1966, America lost its innocence when two mass murders were committed. In Chicago Richard Speck murdered eight student nurses, and 19 days later, on August 1, Charles Whitman gunned down people from the tower at the University of Texas at Austin, killing 16 and wounding 31. Lavergne, director of admissions and guidance services of the College Board's Southwest Regional Office, attempts to answer this question by writing the first full historical analysis of the event. Using primary sources and photographs, the author has done an excellent job of describing Whitman's murdering rampage. Was it caused by his domineering father, a brain tumor found during an autopsy, or both of the above? Lavergne examines these explanations and others as to why Whitman committed such a terrible deed. A good choice for true-crime collections."--Library Journal

"Lavergne brings a mass killer into focus and in so doing delineates the beginning of many of our nation's present societal fears."--Texas Books in Review