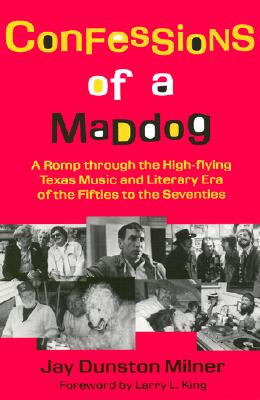 Confessions of a Maddog (Hardcover)
A Romp through the High-flying Texas Music and Literary Era of the Fifties to the Seventies
University of North Texas Press, 9781574410501, 248pp.
Publication Date: October 1, 1998
* Individual store prices may vary.
Description
Jay Milner was part of a generation of Texas writers whose heyday lasted from the late 1950s through the 1970s. The group was comprised of Billie Lee Brammer, Edwin "Bud" Shrake, Gary Cartwright, Dan Jenkins, Larry L. King, Pete Gent, and (peripherally) Larry McMurtry and Willie Morris. From the musical scene there were "picker poets," as Milner calls them, such as Willie Nelson, Jerry Jeff Walker, Guy Clark, Billy Joe Shaver, and Waylon Jennings. Some of the primary works coming from this generation of writers include Brammer's The Gay Place, Shrake's Strange Peaches, Cartwrights's Confessions of a Washed-up Sportswriter, Kings's The Whorehouse Papers and None But a Blockhead , Jan Reid's The Improbable Rise of Redneck Rock, and Willie Nelson's album Phases and Stages.
About the Author
Jay Dunston Milner attended high school in Lubbock where he played on a state championship football team. He graduated from Southern Mississippi University with a B.A. and M.A. and coached football before becoming a reporter for the Hattiesburg, Mississippi American and the Associated Press. He was managing editor of Hodding Carter's Greenville, Mississippi Delta Democrat-Times and went to New York as assistant to the editorial page editor of the New York Herald Tribune. He returned to Texas in 1961 and fell in with a rowdy crowd of Texas prose and song writers to whom much of this book is devoted. He lives in Fort Worth.
or
Not Currently Available for Direct Purchase