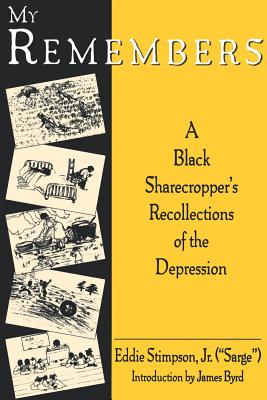 My Remembers (Paperback)
A Black Sharecropper's Recollections of the Depression
University of North Texas Press, 9781574410679, 167pp.
Publication Date: December 1, 1998
* Individual store prices may vary.
Description
In 1929, near Plano, Texas, Eddie Stimpson Jr., weighing 15-1/2 pounds, was born to a 19-year-old father and a 15-year-old mother. The boy, his two sisters and mother all "grew up together," with the father sharecropping along the old Preston Road, the route used by many freedmen trying to escape Texas after the Civil War.

His childhood was void of luxuries, but full of country pleasures. The editors have retained the simplicity of Stimpson's folk speech and spelling patterns, allowing the good-natured humility and wisdom of his personality to shine through the narrative.

The details of ordinary family life and community survival include descriptions of cooking, farming, gambling, visiting, playing, doctoring, hunting, bootlegging, and picking cotton, as well as going to school, to church, to funerals, to weddings, to Juneteenth celebrations.

This book will be of extraordinary value to folklorists, historians, sociologists, and anyone enjoying a good story.
About the Author
EDDIE STIMPSON, JR., born in 1929, lived on a dirt farm while attending Shepton School, Allen Colored School and Plano Colored School. He spent 21 years in the Army, then became a farmer again after retirement. He was the father of three children, grandfather of seven, and great-grandfather of one; he wrote this book for them.