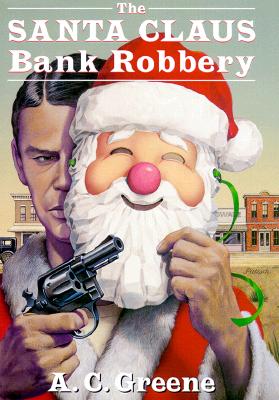 The Santa Claus Bank Robbery (Hardcover)
University of North Texas Press, 9781574410716, 231pp.
Publication Date: July 1, 1999
* Individual store prices may vary.
Description
Master storyteller A. C. Greene re-creates one of America's most bizarre holdups—one that began as a lark. On Christmas Eve 1927, four men set off to rob the First National Bank of Cisco, Texas. Soon the lark turned into a tragedy—and at times a comedy—of errors. The robbers did not realize the car they had stolen for their getaway was running on empty. The leader did not anticipate the attention his disguise would draw, even though it was a bright red Santa Claus suit. And they could not have known that all of Cisco would have guns at hand because the Bankers Association had offered a reward of $5,000 for any dead bank robber, no questions asked. The Santa Claus bank robbery set off a chain of events that would lead to violence and the death of six men and launch the largest manhunt Texas had ever seen.

A. C. Greene's factual account of the unusual crime reads like a novel—fast paced, full of unexpected turns, and rich with the flavor of life in Texas at the beginning of the end of the Old West. This new edition contains an Afterword with photographs, some of them never before published, and followup information on the lives of the participants, including the surviving robber, witnesses, and kidnap victims.
About the Author
A. C. GREENE was born in 1923 in Abilene, Texas and after service in WWII he graduated from Abilene Christian College. He served on the staff of the Abilene Reporter-News, ran his own bookstore and headed the journalism department at Hardin-Simmons University. He joined the Dallas Times-Herald, serving as book editor and editorial page editor before being awarded a Dobie-Paisano fellowship during which he wrote A Personal Country. He wrote a column for The Dallas Morning News and wrote more than 22 books. He published numerous articles in The Atlantic, Texas Monthly, Southwest Review, Southwestern Historical Quarterly, New York Times Book Review, and wrote and narrated many television shows for PBS. He was a Fellow in the Texas State Historical Association and the Texas Institute of Letters.
or
Not Currently Available for Direct Purchase