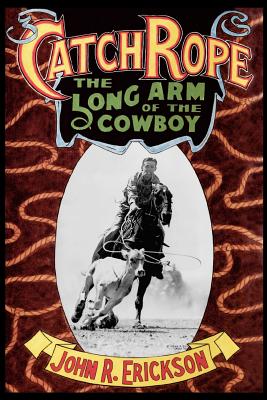 Catch Rope
The Long Arm of the Cowboy
Paperback

* Individual store prices may vary.
Description
For more than a hundred years, American cowboys have made their living through the skilled use of horse and rope. Whole libraries have been devoted to the horse, but no one, until now, has written a thorough study of the origins and evolution of ranch roping—which differs from arena roping as practiced by rodeo cowboys.

Author/cowboy John Erickson studies ranch roping from every angle: its origins in the Old World; old-time loops and throws; the influence of modern team roping; and the endless debate between those cowboys who rope 'hard and fast' and those who 'dally.'

Mixing scholarship with his working-cowboy's knowledge of the subject, Erickson tells stories of cowboys who could not resist fitting their loops on "things that ort not to be roped," such as elk, deer, badgers, bears, and bobcats. He tells of jackrabbit roping contests, and of cowboys who roped mice, geese, hogs, wives, or a runaway milk wagon. Anyone who has ever "built a loop" or even thought about it will find this book hard to put down.
University of North Texas Press, 9781574411133, 168pp.
Publication Date: June 1, 2000
About the Author
John R. Erickson, born in Midland, Texas, and raised in the Texas Panhandle town of Perryton, is a fifth-generation Texan with ranching roots back to the 1850s. He graduated from the University of Texas and studied at the Harvard Divinity School, but made his living on horseback while pursuing his writing. His Hank the Cowdog series has become a national favorite. He and his wife run their own ranch and commercial beef cattle operation. A member of the Texas Institute of Letters, Erickson has been profiled in Southern Living, American Cowboy Magazine, and on CBS's Evening News with Dan Rather. He is the author of seven books in UNT Press's Western Life Series.