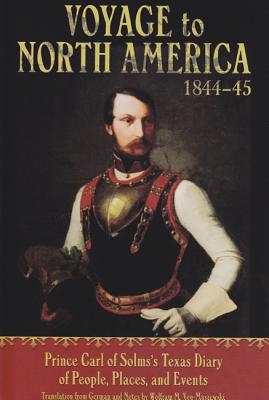 Voyage to North America, 1844-45 (Hardcover)
Prince Carl of Solms' Texas Diary of People, Places, and Events
University of North Texas Press, 9781574411249, 256pp.
Publication Date: December 1, 2000
* Individual store prices may vary.
Description
The largest single immigration of Germans to the United States, and the most unusual, occurred in Texas around the middle of the nineteenth century. The organization formed to direct this German colonization of Texas became popularly known as the Adelsverein (The Society of Noblemen). The key figure in this settlement was Carl, Prince of Solms-Braunfel, appointed Commissioner-General by the Adelsverein. Solms's diary of this time was discovered in documents relating to the Adelsverein and has been translated here for the first time.

The diary begins with Solms' departure from the family castle on the Rhine, Rheingrafenstein, in May 1844, and ends on June 30, 1845, in New York. It contains additional important historical and personal data, including a great deal of biographical data not found in the other Solms documents. The personal nature of the diary allowed freedom in the descriptions of people and places Solms encountered. He writes daily records of personal contacts with Texas officials and important citizens, numerous Germans of all stations already in Texas, and occasional Indian bands. He describes the extent and nature of his daily travels and, when warranted, includes descriptions of the region or the city or settlement, particularly the German settlements.

Included in the Appendix is the diary of the colonial director of the Adelsverein, Alexander Bourgeois. Since Bourgeois accompanied Solms until Solms dismissed him in August 1844, his diary provides a unique counterpoint to Solms' diary. Bourgeois's diary, however, was not compiled on a day-to-day basis but apparently written during the time of his dismissal.
About the Author
Wolfram M. Von-Maszewski is Department Manager of Genealogy and Local History at George Memorial Library in Richmond, Texas. Born and raised in Europe, he received B.A. and M.A. degrees from the University of Texas at Austin. He taught anthropology and German and his publications include Index to The Trail Drivers of Texas; Handbook and Registry of German-Texan Heritage; and The German Volksfest in Brenham, Texas.
or
Not Currently Available for Direct Purchase