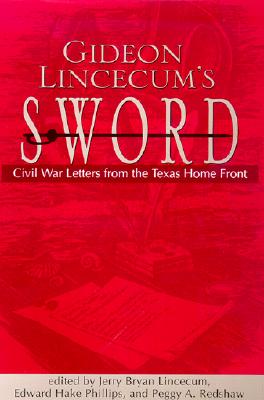 Gideon Lincecum's Sword (Hardcover)
Civil War Letters from the Texas Home Front
University of North Texas Press, 9781574411256, 392pp.
Publication Date: January 1, 2001
* Individual store prices may vary.
Description
The effects of the Civil War on civilian life in Texas are powerfully conveyed in the correspondence of Dr. Gideon Lincecum (1793–1874), a natural scientist and philosopher who moved to Texas in 1848 with his family of ten children and settled in Washington County. Having retired from an extensive and lucrative botanical medical practice in Mississippi, Gideon devoted much of his time in Texas before the war to studying the natural sciences and carrying on an extensive correspondence that included Northern scientists and even Charles Darwin. He used a letterpress to make copies of almost all of his letters, and these letterpress volumes, totaling more than a thousand pages, were preserved by one of his daughters. Gideon's letters provide a rich and detailed account of how one individual and his large extended family, all of whom were strongly committed to the Confederacy, kept up with the progress of the conflict and coped with the multitude of problems it created.

Lincecum's resourcefulness in the face of shortages included weaving spanish moss into blankets and investigating the papermaking potential of milkweed. He was always optimistic about the prospects of the Confederacy and always willing to further the cause however he could. His dedication to the South often led him into astonishing diatribes, as when he wrote his son Lysander: "It would be a gratifying thing to my feelings, to be certified that every man, woman and child in the bounds of the confederacy had taken a solemn oath that to die fighting is far preferable to submission, and so long as they have life and strength to damage a yankee in any manner or form that they will continue to do so."
About the Author
Jerry Bryan Lincecum is the Shoap Professor of English at Austin College. Edward Hake Phillips was Professor of History, Emeritus, at Austin College. Peggy A. Redshaw is Professor of Biology at Austin College. The three previously coedited Science on the Texas Frontier: Observations of Dr. Gideon Lincecum.
or
Not Currently Available for Direct Purchase