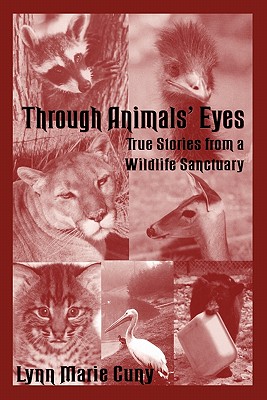 Through Animals' Eyes
True Stories from a Wildlife Sanctuary
Paperback

* Individual store prices may vary.
Description
Founded by Lynn Cuny in 1977, Wildlife Rescue & Rehabilitation (WRR) provides rescue, rehabilitation and release of orphaned, injured and displaced wildlife. WRR also gives permanent care, in large natural habitats, to indigenous wildlife who, due to severe injuries, have been deemed non-releasable. Permanent care is also provided for non-indigenous wild animals who have been victimized by the exotic pet trade, rescued from roadside zoos, or retired from research facilities. WRR rescues over 5,000 animals annually and maintains a 365-days-a-year wildlife emergency hotline. Through the stories of her experiences with the various animals, Lynn hopes to dispel the belief that non-human animals do not reason, have no emotions, show no compassion for each other and for other species.

Lynn's stories from WRR range from the humorous to the tragic, from the surprising to the inevitable. The animals she describes range from the day-old field mouse to the three-legged coyote; from a fox-loving hen to the exotic and abused mountain lions, macaque monkeys and black bears. Always, she reveals the dignity of each animal, trying to survive in a world made cruel and dangerous by the thoughtlessness of humans.
University of North Texas Press, 9781574411300, 168pp.
Publication Date: December 1, 2000
About the Author
Lynn Cuny, Executive Director of WRR, began her rescue work at the age of three by saving the lives of earthworms after a hard rain. She serves on the boards of the Summerlee Foundation and the Ahimsa Foundation and lives outside of San Antonio.