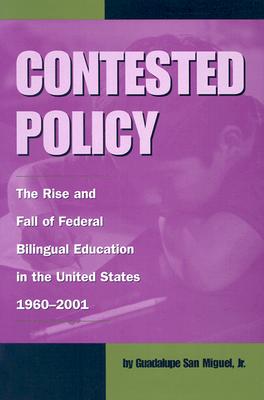 Contested Policy
The Rise and Fall of Federal Bilingual Education in the United States, 1960-2001 (Al Filo: Mexican American Studies Series #1)
Hardcover

* Individual store prices may vary.
Description
Bilingual education is one of the most contentious and misunderstood educational programs in the country. It raises significant questions about this country's national identity, the nature of federalism, power, ethnicity, and pedagogy. In Contested Policy, Guadalupe San Miguel Jr. studies the origins, evolution, and consequences of federal bilingual education policy from 1960 to 2001, with particular attention to the activist years after 1978, when bilingual policy was heatedly contested.

Traditionally, those in favor of bilingual education are language specialists, Mexican American activists, newly enfranchised civil rights advocates, language minorities, intellectuals, teachers, and students. They are ideologically opposed to the assimilationist philosophy in the schools, to the structural exclusion and institutional discrimination of minority groups, and to limited school reform.

On the other hand, the opponents of bilingual education, comprised at different points in time of conservative journalists, politicians, federal bureaucrats, Anglo parent groups, school officials, administrators, and special-interest groups (such as U.S. English), favor assimilationism, the structural exclusion and discrimination of ethnic minorities, and limited school reform.

In the 1990s a resurgence of opposition to bilingual education succeeded in repealing bilingual legislation with an English-only piece of legislation. San Miguel deftly provides a history of these clashing groups and how they impacted bilingual educational policy over the years. Rounding out this history is an extensive, annotated bibliography on federal bilingual policy that can be used to enhance further study.
Praise For Contested Policy: The Rise and Fall of Federal Bilingual Education in the United States, 1960-2001 (Al Filo: Mexican American Studies Series #1)…
"In this book Guadalupe San Miguel Jr. provides important insights into the bilingual education debate at the federal level. This is a must read for anyone interested in understanding one of the most contentious and misunderstood educational policy issues in the United States."—Rubén Donato, School of Education, University of Colorado at Boulder

"Contested Policy is a tour de force of the politically charged history of federal bilingual education in the U.S.  In his outstanding treatise, San Miguel skillfully unravels the complex and turbulent contemporary history of bilingual education. Beginning with the 1960 origins of the 1968 Bilingual Education Act, and through its six reauthorizations from 1974 to 2002, San Miguel comprehensively examines the key actors, events, and developments that led to the rise and fall of federally sponsored bilingual education. Contested Policy stands alone as the most informed and incisively written history on federal bilingual education to date."--Richard R. Valencia, College of Education, University of Texas at Austin

"San Miguel provides the complete history of the rise and fall of federal bilingual education policy and details how the English-only movement defeated it at the federal level, only to continue the fight state-by-state. This is a clearly written, controlled overview of a complicated public policy debate that has extended over four decades and resides squarely inside the multiple ideological debates over American identity, the federal role in education, and multiculturalism and diversity versus Americanism. . . . An invaluable tool for researchers."—History: Review of New Books

"This concise volume documents the 40-year history of bilingual education in the US and provides an extended bibliographical essay of materials pertinent to this history."--Choice

"Regardless of the reader's political affiliation, philosophical standing, or preferred method of language instruction, this historic account is useful to the policymaker, voter, or educator interested in bilingual education."--Harvard Educational Review

"Contested Policy is a very reasonable book about a topic in which public discourse has of late been entirely unreasonable. It should be required reading for students of history, education, and public policy."--Southwestern Historical Quarterly

"Contested Policy presents the rise and fall of federal bilingual education, which uniquely fits into the historiography of Chicana and Chicano or Latino education studies."--Southern Historian
University of North Texas Press, 9781574411713, 176pp.
Publication Date: March 29, 2004
About the Author
Guadalupe San Miguel, Jr., is professor of history at the University of Houston. He is the author of "Let All of Them Take Heed": Mexican-Americans and the Campaign for Educational Equality in Texas, 1910–1981; Brown, Not White: School Integration and the Chicano Movement in Houston; and Tejano Proud: Tex-Mex Music in the Twentieth Century.
or
Not Currently Available for Direct Purchase