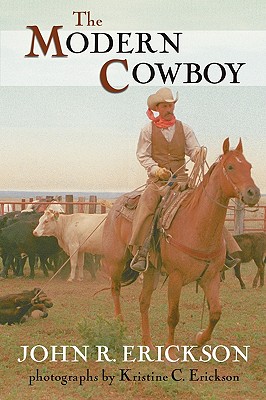 The Modern Cowboy
Second Edition (Western Life #7)
Paperback

* Individual store prices may vary.
Description
"The American cowboy is a mythical character who refuses to die," says author John R. Erickson. On the one hand he is a common man: a laborer, a hired hand who works for wages. Yet in his lonely struggle against nature and animal cunning, he becomes larger than life. Who is this cowboy? Where did he come from and where is he today?

Erickson addresses these questions based on firsthand observation and experience in Texas and Oklahoma. And in the process of describing and defining the modern working cowboy—his work, his tools and equipment, his horse, his roping technique, his style of dress, his relationships with his wife and his employer—Erickson gives a thorough description of modern ranching, the economic milieu in which the cowboy operates.

The first edition of this book was published in 1981. For this second edition Erickson has thoroughly revised and expanded the book to discuss recent developments in cowboy culture, making The Modern Cowboy the most up-to-date source on cowboy and ranch life today.
University of North Texas Press, 9781574411775, 272pp.
Publication Date: May 25, 2004
About the Author
John R. Erickson, born in Midland, Texas, and raised in the Texas Panhandle town of Perryton, is a fifth-generation Texan with ranching roots back to the 1850s. He graduated from the University of Texas and studied at the Harvard Divinity School, but made his living on horseback while pursuing his writing. His Hank the Cowdog series has become a national favorite. He and his wife run their own ranch and commercial beef cattle operation. A member of the Texas Institute of Letters, Erickson has been profiled in Southern Living, American Cowboy Magazine, and on CBS's Evening News with Dan Rather. He is the author of seven books in UNT Press's Western Life Series.