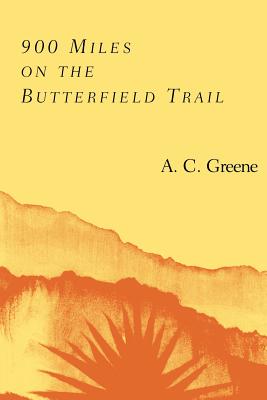 900 Miles on the Butterfield Trail
Paperback

* Individual store prices may vary.
Description
Short as the life of the Southern Overland Mail turned out to be—less than three years in its span—the saga of the Butterfield Trail remains a romantic high point in the westward movement, forming familiar elements in historical plots, functioning as a vibrant backdrop against which mythic adventures, western thrillers, movie serials, and television spectacles have raced. A. C. Greene offers a history and guide to retrace that historic and romantic Trail.

Today, more than a century and a third after the first Butterfield coaches rolled, we are hard put to imagine how awesome, how fearful was the actual passage along the trail. In 1858 Waterman Lily Ormsby Jr., gave the first account of traveling on the Butterfield Overland Mail coach as a reporter for the New York Herald on a trip from Missouri to San Francisco. In the 1930s Roscoe P. and Margaret B. Conkling drove the route again in their 1930 Buick and published three volumes of their research. Now A. C. and Judy Greene have made a 1990s version of the ride in their own "celerity wagon" a Lincoln Mark VII.

This is the first book in more than 55 years to trace the actual Butterfield Trail through the heart of the Southwest. Incorporating newly-found documents, and changes in the landscape and its history, it is an updated story of the Butterfield operation and the people and events that have occurred along the route.
University of North Texas Press, 9781574412130, 304pp.
Publication Date: September 1, 2006
About the Author
A. C. GREENE was born in 1923 in Abilene, Texas and after service in WWII he graduated from Abilene Christian College. He served on the staff of the Abilene Reporter-News, ran his own bookstore and headed the journalism department at Hardin-Simmons University. He joined the Dallas Times-Herald, serving as book editor and editorial page editor before being awarded a Dobie-Paisano fellowship during which he wrote A Personal Country. He wrote a column for The Dallas Morning News and wrote more than 22 books. He published numerous articles in The Atlantic, Texas Monthly, Southwest Review, Southwestern Historical Quarterly, New York Times Book Review, and wrote and narrated many television shows for PBS. He was a Fellow in the Texas State Historical Association and the Texas Institute of Letters.