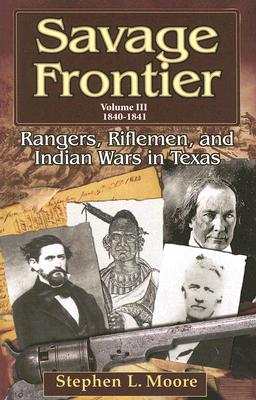 Savage Frontier Volume III (Paperback)
Rangers, Riflemen, and Indian Wars in Texas, 1840-1841
University of North Texas Press, 9781574412291, 448pp.
Publication Date: February 22, 2007
Other Editions of This Title:
Hardcover (2/13/2007)
* Individual store prices may vary.
Description
This third volume of the Savage Frontier series focuses on the evolution of the Texas Rangers and frontier warfare in Texas during the years 1840 and 1841. Comanche Indians were the leading rival to the pioneers during this period. Peace negotiations in San Antonio collapsed during the Council House Fight, prompting what would become known as the "Great Comanche Raid" in the summer of 1840.

Stephen L. Moore covers the resulting Battle of Plum Creek and other engagements in new detail. Rangers, militiamen, and volunteers made offensive sweeps into West Texas and the Cross Timbers area of present Dallas-Fort Worth. During this time Texass Frontier Regiment built a great military road, roughly parallel to modern Interstate 35. Moore also shows how the Colt repeating pistol came into use by Texas Rangers. Finally, he sets the record straight on the battles of the legendary Captain Jack Hays.

Through extensive use of primary military documents and first-person accounts, Moore provides a clear view of life as a frontier fighter in the Republic of Texas. The reader will find herein numerous and painstakingly recreated muster rolls, as well as casualty lists and a compilation of 1841 rangers and minutemen. For the exacting historian or genealogist of early Texas, the Savage Frontier series is an indispensable resource on early nineteenth-century Texas frontier warfare.
About the Author
Stephen L. Moore is a sixth-generation Texan and author of Savage Frontier: Rangers, Riflemen, and Indian Wars in Texas, Volume I, 1835–1837 and Volume II, 1838–1839. He is also the author of Eighteen Minutes: The Battle of San Jacinto and the Texas Independence Campaign and Taming Texas: Captain William T. Sadlers Lone Star Service. He lives in Lantana, Texas.