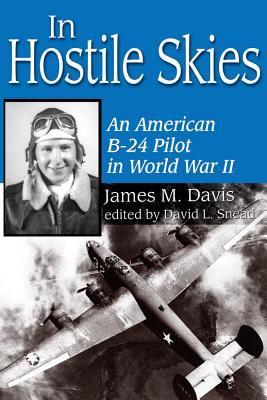 In Hostile Skies
An American B-24 Pilot in World War II (North Texas Military Biography and Memoir Series #3)
Paperback

* Individual store prices may vary.
Description
James "Jim" Davis lived what he considered "an impossible dream" as he piloted a B-24, as part of the 8th Air Force, on nearly thirty missions in the European Theatre during World War II. In this memoir, Davis offers heart-wrenching detail concerning the difficulties of qualifying for the U.S. Army Air Forces pilot program, the strenuous nature of the pilot training program, the anxiety caused by a wartime marriage, and the dangers of flying combat missions over Nazi Germany. Few, if any, other memoirs provide the genuineness and honesty of his story. From his struggles to become a pilot, to seeing death up close on his first mission, to his expected deployment to the Pacific Theatre in the fall of 1945, Davis takes the reader through a fast-paced and exciting narrative adventure.

Davis and his crew flew support missions for Operations Cobra and Market Garden and numerous bombing missions over occupied Europe in the summer and fall of 1944. He piloted his B-24 on missions over twenty German cities, including Cologne, Hamburg, Metz, and Munich, and attacked enemy airfields, airplane factories, railroad marshalling yards, ship yards, oil refineries, and chemical plants. While he and his crew survived without serious injuries, they witnessed the destruction of many of their friends' planes and experienced serious damage to their own plane on several occasions. Readers of his memoir will come away with a much greater appreciation for the difficulties and dangers of the air war in World War II.

David Snead happened upon the memoir and its author during his time at Texas Tech University. He was immediately hooked and began the process of preparing it for publication. Snead met with Davis on several occasions, examined his military records, researched in detail at the National Archives, and investigated numerous published sources in order to corroborate the account and add explanatory notes for context.
Praise For In Hostile Skies: An American B-24 Pilot in World War II (North Texas Military Biography and Memoir Series #3)…
"The key word was 'survival.' Run the flak gauntlet, escape the Luftwaffe, overcome the weather, get the bombs on the target, and make it back to base, safe—until the next time. From the rigors of training to the demands of combat flying, Jim had one predominant goal, survival. This marvelous story will take you there with Jim and his crew." --LTC Charles H. Freudenthal, USAF Ret., Historian of the 8th Air Force, 489th
— >

"Davis's narrative has considerable merit—what came across was its genuineness, its authenticity. This account is one of the best because Davis is so explicit in recounting his fears, his sleepless nights before missions, and his lack of fear in the midst of crises. Such insights add significantly to the value of his memoir. As a retired Air Force flag officer I must confess that I am appalled to learn that those in command in the 8th Air Force allowed Davis to go on combat missions with a copilot who had never landed or taken off in a B-24 and had never practiced formation flying. Davis's revelations of just such snafus as these are what give added value and interest to his narrative" --I. B. Holley Jr., Emeritus Professor of History, Duke University
— >

"Jim Davis will certainly claim to be an 'ordinary man.' But in this riveting first-person account of his pilot training and B-24 combat missions over Europe during the waning years of the Second World War, Davis and his crew are surely extraordinary people. Thanks to David Snead's graceful editing and insightful historical references, Jim's own words reflect not only the facts of this epic adventure, but reveal the joy and sorrow, fear and relief, and deep feeling of being blessed to have survived this monumental war in the air while flying one of the great bombers of all time, the B-24 Liberator." --Robert S. Hopkins III, Ph.D., Former RC-135 Aircraft Commander
— >

"A near-perfect example of 'the greatest generation,' Mr. Davis has written an enthralling account of his service in World War II. Indeed, to understand the air war in the European Theatre, with its unrelenting fatigue and harrowing dangers, there is no better place to start than with this poignant, enlightening, and entertaining memoir." --Peter Maslowski, Professor of History, University of Nebraska
— >
University of North Texas Press, 9781574412390, 256pp.
Publication Date: September 13, 2007
About the Author
James M. Davis is a retired businessman who lives in Midland, Texas, with his wife of over six decades, Jean. He served on active duty in the U.S. Army Air Forces for more than two and a half years during World War II, and then in the Air Force reserves until 1961.



David L. Snead, the editor, is an associate professor of history at Liberty University in Lynchburg, Virginia. He received his Ph.D. in history from the University of Virginia and is the author of The Gaither Committee, Eisenhower, and the Cold War and George E. Browne: An American Doughboy in World War I.
or
Not Currently Available for Direct Purchase