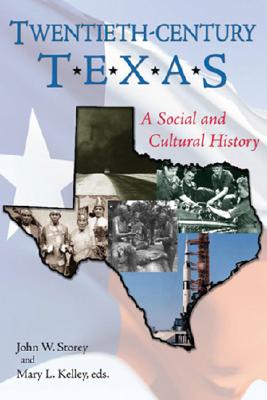 Twentieth-Century Texas (Hardcover)
A Social and Cultural History
University of North Texas Press, 9781574412451, 488pp.
Publication Date: February 21, 2008
* Individual store prices may vary.
Description
Texas changed enormously in the twentieth century, and much of that transformation was a direct product of social and cultural events. Standard histories of Texas traditionally focus on political, military, and economic topics, with emphasis on the nineteenth century. In Twentieth-Century Texas: A Social and Cultural History editors John W. Storey and Mary L. Kelley offer a much-needed corrective.

Written with both general and academic audiences in mind, the fourteen essays herein cover Indians, Mexican Americans, African Americans, women, religion, war on the homefront, music, literature, film, art, sports, philanthropy, education, the environment, and science and technology in twentieth-century Texas. Each essay is able to stand alone, supplemented with appropriate photographs, notes, and a selected bibliography.

In spite of its ongoing mythic image of rugged ranchers, cowboys, and longhorns, Texas today is a major urban, industrial society with all that brings, both good and bad. For example, first-rate medical centers and academic institutions exist alongside pollution and environment degradation. These topics, and more, are carefully explored in this anthology. It will appeal to anyone interested in the social and cultural development of the state. It will also prove useful in the college classroom, especially for Texas history courses.
About the Author
John W. Storey is a regents professor of history at Lamar University in Beaumont, Texas. He is the author of Texas Baptist Leadership and Social Christianity and coauthor of Southern Baptists of Southeast Texas, The Religious Right, and Religion and Politics.



Mary L. Kelley is an associate professor of history at Lamar University and a Fulbright Scholar. She has published The Foundations of Texan Philanthropy and numerous scholarly articles. She is currently working on a volume about Texas women in the twentieth century.
or
Not Currently Available for Direct Purchase