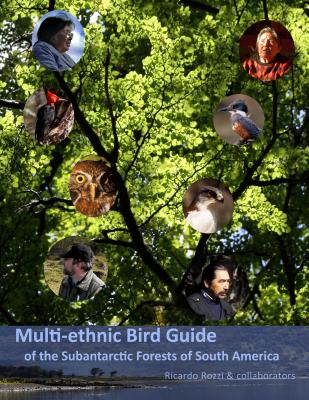 Multi-ethnic Bird Guide of the Subantarctic Forests of South America (Hardcover)
University of North Texas Press, 9781574412826, 236pp.
Publication Date: July 14, 2010
* Individual store prices may vary.
Description
The subantarctic forests of South America are the world's southernmost forested ecosystems. The birds have sung in these austral forests for millions of years; the Yahgan and Mapuche peoples have handed down their bird stories from generation to generation for hundreds of years.
In Multi-ethnic Bird Guide of the Subantarctic Forests of South America, Ricardo Rozzi and his collaborators present a unique combination of bird guide and cultural ethnography. The book includes entries on fifty bird species of southern Chile and Argentina, among them the Magellanic Woodpecker, Rufous-Legged Owl, Ringed Kingfisher, Buff-Necked Ibis, Giant Hummingbird, and Andean Condor. Each bird is named in Yahgan, Mapudungun, Spanish, English, and scientific nomenclature, followed by a description, full color photographs, the bird's distribution map, habitat and lifestyle, and its history in the region.
Each entry is augmented further with indigenous accounts of the bird in history and folklore. Two audio CDs (included) orient the reader with the birdcalls and their names in four languages, followed by numerous narratives of Yahgan and Mapuche stories about the birds translated directly from interviews with elders of both communities.
About the Author
RICARDO ROZZI is an associate professor in philosophy and religion studies at the University of North Texas, with a master's degree in philosophy and doctorate in ecology. He is a part-time researcher at the Universidad de Magallanes, Chile, and the author or coauthor of The Route of Darwin through the Cape Horn Archipelago, The World's Southernmost Ethnoecology, and The Cape Horn Biosphere Reserve. Rozzi lives in Denton, TX.
Praise For Multi-ethnic Bird Guide of the Subantarctic Forests of South America…
"Each of the 50 separate species accounts has a number of recognizable field-guide elements, such as plumage descriptions, range maps and high quality photographs. Yet it also places, side by side with these, traditional stories, poems, personal reminiscences and myths . . . typified by the inclusion Yaghan and Mapuche stories in their original language form."--Ibis: The International Journal of Avian Science
"Overall, this nicely produced volume addresses a pressing need for more ethnoornithology in field guides. Although heftier than ideal, the volume is invaluable for field identification. Highly recommended."--Choice
or
Not Currently Available for Direct Purchase