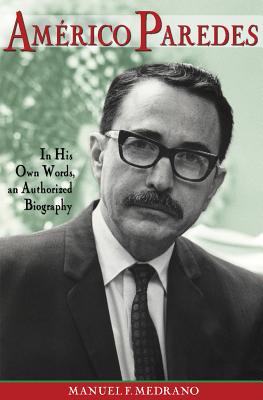 Americo Paredes
In His Own Words, an Authorized Biography (Al Filo: Mexican American Studies Series #5)
Hardcover

* Individual store prices may vary.
Description
Américo Paredes (1915-1999) was a folklorist, scholar, and professor at the University of Texas at Austin who is widely acknowledged as one of the founding scholars of Chicano Studies. Born in Brownsville, Texas, along the southern U.S.-Mexico Border, Paredes' early experiences impacted his writing during his later years as an academic. He grew up between two worlds—one written about in books, the other sung about in ballads and narrated in folktales. He attended a school system that emphasized conformity and Anglo values in a town whose population was 70 percent Mexican in origin.
During World War II, he worked for the International American Red Cross and wrote for the Stars and Stripes army newspaper in the Far East. He returned to Texas with a new bride and a passion for continuing his formal education and his writing. Paredes did both at the University of Texas at Austin, where he completed his Ph.D. in 1956. With the publication of his dissertation, "With His Pistol in His Hand": A Border Ballad and Its Hero in 1958, Paredes soon emerged as a challenger to the status quo. His book questioned the mythic nature of the Texas Rangers and provided an alternative counter-cultural narrative to the existing traditional narratives of Walter Prescott Webb and J. Frank Dobie, among others.
For the next forty years he was a brilliant teacher and prolific writer who championed the preservation of border culture and history. He was a soft-spoken, at times temperamental, yet fearless professor. He was a co-founder in 1970 of the Center for Mexican American Studies at the University of Texas at Austin and is credited with introducing the concept of Greater Mexico, decades before its wider acceptance today among transnationalist scholars. He received numerous awards, including La Orden del Aguila Azteca, Mexico's most prestigious service award to a foreigner. Paredes became a scholar of scholars, guiding many students to become academic leaders.
Manuel F. Medrano interviewed Paredes over a five-year period before Paredes' death in 1999, and also interviewed his family and colleagues. For many Mexican Americans, Paredes' historical legacy is that he raised, carried, and defended their cultural flag with a dignity that both friends and foes respected.
Praise For Americo Paredes: In His Own Words, an Authorized Biography (Al Filo: Mexican American Studies Series #5)…
"Medrano incorporates oral history, personal/professional correspondence, and family input into his research. To my knowledge, no other scholar has had access to some of the material herein, presenting a fuller and more comprehensive picture of the man behind the scholar."—Aaron Rodrigues, Department of Ethnic Studies, Cal Poly San Luis Obispo
"Paredes is the leading academic figure for Texas Mexicans and his work continues to invoke not only personal attention but scholarly perspectives as well. This book has the potential of introducing Paredes to a new generation of readers and scholars. The interviews conducted with Paredes, his family, and his students is material you will find nowhere else."—Richard Flores, Professor of Anthropology and Mexican American Studies, University of Texas
"With the cooperation of the Paredes family, Medrano has compiled a book that focuses on Paredes's accomplishments and presents him as a man of unimpeachable integrity. . . . [He] provides new details about Paredes's personal life, including intimate glimpses of his relationship with his wife, Amelia. In this regard, Medrano's work transcends the three previous biographies on Paredes, each of which have been extremely circumspect regarding don Americo's privacy."--Southwestern Historical Quarterly
"This clear and straightforward introduction to one of folklore's most notable scholars of the twentieth century provides excellent insight into the man behind the work. . . . Much like the border folk heroes depicted in the corridos that Dr. Paredes loved so much, his own character is brought to life in Medrano's words and will undoubtedly live on in the minds of those who listen to Paredes' story attentively."--Journal of Folklore Research
"Paredes played an important part in legitimating the study of Mexican culture as it crossed the border into the United States and valorizing the work of Americans of Mexican descent. . . . [I]t will be read and enjoyed by Paredes' friends and family, grateful students, and other scholars of folklore and Mexican American Studies."--
Journal of the American Studies Association of Texas
"Medrano's biography offers an inspiring and necessary must-read for anyone claiming to have more than just a passing interest in studying the history and cultures of the American Southwest where Mexican Americans have a continuing and growing, important presence."--
Texas Books in Review
University of North Texas Press, 9781574412871, 224pp.
Publication Date: March 8, 2010
About the Author
MANUEL F. MEDRANO is a professor of history at the University of Texas at Brownsville and the coauthor of Medieval Culture and the Mexican American Borderlands and Charro Days in Brownsville. He has written three bilingual poetry books and has produced and directed Los del Valle, an oral history of Rio Grande Valley people. Medrano lives in Brownsville, TX.
or
Not Currently Available for Direct Purchase