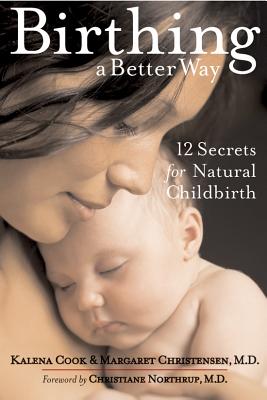 Birthing a Better Way
12 Secrets for Natural Childbirth (Mayborn Literary Nonfiction Series #4)
Paperback

* Individual store prices may vary.
Other Editions of This Title:
Hardcover (7/20/2010)
Description
Birthing a Better Way: 12 Secrets for Natural Childbirthpresents a fresh, proactive, and positive approach to why you may want to consider the safest and most satisfying kind of birth—natural childbirth—especially in these times of overused medical interventions. Kalena Cook, a mother who experienced natural childbirth, and Margaret Christensen, M.D., a board certified obstetrician-gynecologist, have written this much-needed book for expectant mothers and their caregivers, imparting proven safe or "evidence-based" information with compelling narratives. Think of What to Expect in Natural Childbirth meets Chicken Soup for the Natural Birthing Soul!
Unlike other books that overwhelm with data, Birthing a Better Way simplifies the best key points. Going beyond actual birth accounts, the authors reveal 12 Secrets which bring confidence in the normal process of birth and inspire you to believe in what your body is beautifully designed to do—a far cry from what is portrayed in the media or from some fear-based conventional medical practices.
More than fifty powerful testimonials include healthy mainstream women who answer why they chose natural birth (instead of Pitocin, inductions, epidurals and C-sections), what it was like, and even how it compared to a medicated birth. Six physicians share why they birthed their own children naturally, and not in the hospital.
Through Birthing a Better Way, choose whether you want a doctor or a midwife and decide where to birth: in a hospital, birth center, or at home. Get informed about the variety of births such as waterbirths, breech birth, twins, VBACs (vaginal birth after cesarean), and using hypnosis. Find out about ways to avoid Pitocin, an induction, or an unnecessary C-section. Discover what is in an epidural and its effects. Know what safe comfort measures truly work and how to overcome fear. Learn what you need to know about ultrasound and nutrition. Approach natural childbirth with a mind-body-spirit stance to strengthen your commitment.
Don't take labor lying down. Get armed with these vital strategies. You can make a healthy difference with the many benefits of natural childbirth for you and your baby. Positive mothering begins with being satisfied with, not depressed by, your birth experience. This book will guide you step-by-step toward getting the empowering birth of your life.
Number 4: Mayborn Literary Nonfiction Series
"Thank you for writing Birthing a Better Way; it is exactly what we need now. The storytelling model plus expert commentary is perfect. We need this alternative. I love the book and will recommend it to everyone!"—Dr. Christiane Northrup, author of Women's Bodies, Women's Wisdom
"The most sacred experience I've ever had is having babies myself. Five daughters all born at home. They were the high points in my life, both spiritually and psychosexually. Everything I've done has come out of my joy in birth. Through positive birth stories, Birthing a Better Way helps women work out what they want and gain self-confidence."—Sheila Kitzinger, author of Pregnancy & Childbirth: Choices and Challenges
"Giving birth in the most natural and tranquil way, within an environment filled with love and gratitude, opens the doorway to a new and more fulfilling life for any child. Caring and gentle hands embracing a newborn's precious moment of entering its new world is truly a gift to any expecting mother and loving family and for that matter the world. To reawaken a woman's natural and intuitive ability to express birthing and mothering is a must in our fast-paced, time-pressured society of quick fixes. Birthing a Better Way opens the way for a new era in child birthing for the many beautiful and wise mothers of the future."—Dr. John F. Demartini, author of Court Your Blessing: The Healing Power of Gratitude and Love 
University of North Texas Press, 9781574412987, 384pp.
Publication Date: July 20, 2010
About the Author
At age 39, KALENA COOK gave birth naturally to a healthy 8 lb., 4 oz. boy with the help of a midwife. The positive and life-changing event inspired her to write about the latest evidence-based research and seek compelling stories from more than fifty interviews with women, doctors, midwives, hospitals, and birth centers. She encourages healthy women to become informed and guides them as a sought-after "Birth Mentor." Kalena owned an award-winning communications company for fifteen years and has a MFA in Advertising Design.
MARGARET CHRISTENSEN, M.D., a board certified obstetrician-gynecologist, currently runs the Christensen Center for Whole Life Health, a holistic outpatient functional medicine practice. In her first practice, Renaissance Women's Health Associates, for ten years she created a collaborative, hospital based Ob-Gyn model with Certified Nurse Midwives, as well as served as medical back-up for a CNM-owned, out-of-hospital birth center. She is the mother of four children, all born drug-free.
or
Not Currently Available for Direct Purchase