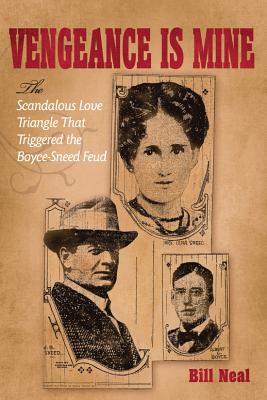 Vengeance Is Mine
The Scandalous Love Triangle That Triggered the Boyce-Sneed Feud (A.C. Greene Series #11)
Hardcover

* Individual store prices may vary.
Description
Almost half a century after the Boyce-Sneed feud in West Texas erupted in bloodshed in 1912, two Texas historians attempted to write about the affair. But no one would talk to them. Lewis Nordyke abandoned the idea, and C. L. Sonnichsen, another chronicler of Texas feuds, wrote that it was "too soon to talk about the Boyce-Sneed affair." Not until the 1990s did the whole story emerge, when descendants of the feuding families finally called a truce, opened the family archives, and shared family legends. And what a tale it proved to be—a classic saga of passion, violence, and revenge, of retribution but never redemption.
The feud began with a torrid sex scandal at the core of a love triangle, featuring Lena Snyder Sneed, the high-spirited, headstrong wife; Al Boyce, Jr., Lena's reckless, romantic lover; and John Beal Sneed, Lena's arrogant, grim, and vindictive husband, who responded to Lena's plea for a divorce by having her locked up in an insane asylum on grounds of "moral insanity." The chase was on after Al rescued Lena from the asylum and the lovers fled to Canada. That's when the killings began.
No one who knew the vengeful John Beal Sneed doubted for a moment that he would go after his wife's lover with lethal intent. But that was not enough to satisfy the enraged husband's blood lust. Frustrated by Al's escape to Canada, Sneed assassinated Al's aged and unarmed father, Colonel Albert Boyce, a wealthy Amarillo banker who had been the general manager of the huge XIT Ranch in the Panhandle during the late nineteenth century. Colonel Boyce's offense had been his successful effort to derail Sneed's attempt to railroad his son to the penitentiary on trumped-up criminal charges.
Newspaper headlines predicted the upcoming murder trial would be the "greatest legal battle ever fought in Texas Courts." Sneed's well-paid legal team first earned him a mistrial. Before the retrial, Al Boyce, Jr. made a foolish mistake. He returned to Texas. Nothing could have pleased John Beal Sneed more. In the presence of witnesses, he shot Al in the back while he was strolling down the main street of Amarillo. Sneed was acquitted in his second trial for killing the father, and later acquitted for the killing of son Al Boyce, Jr., as well. His legal team skillfully invoked the self-help justice of the unwritten law that sanctioned the slaying by a husband of his wife's lover in order to "protect the home."
Bill Neal, attorney and writer, tells the full story of this sordid affair with special analysis of the trial tactics that were so carefully crafted to resonate with the jurors of that era and ensure Sneed's acquittal. The Sneed affair is a story of the written laws of Texas struggling to gain ascendency over justice administered by Judge Winchester and Judge Lynch, as well as by the self-help justice condoned by the Honor Code's unwritten laws. There is nothing quite like a crime of passion played out during the courtroom drama of a sensational murder trial to illuminate the social history and the contemporary mores of any given society.
Praise For Vengeance Is Mine: The Scandalous Love Triangle That Triggered the Boyce-Sneed Feud (A.C. Greene Series #11)…
"Bill's vast experience as an attorney brings this story of love and revenge and murder trials to a new level. It is his portrayal of the legal strategy and of the flamboyant lawyers that brings a new dimension to this book. Bill is a gifted storyteller, as he has proven in his three previous books, and he is at his best in
Vengeance Is Mine
."—
Bill O'Neal
, author of
The Johnson-Sims Feud
(UNT Press) and
The Johnson County War
"Neal's writing style is very attractive. The depth of analysis and criticism of prosecution tactics is excellent. Vengeance Is Mine will attract a 'true crime' readership as well as an academic audience. This has movie potential."—Gordon Bakken, professor of history, California State University at Fullerton
"Neal makes excellent use of court records, family correspondence, and newspapers in telling a tale that today sounds like a mix of Dateline NBC and Dallas, except that everyone knew who shot Colonel Boyce and his son."--Western Writers of America Roundup Magazine
The Boyce-Sneed feud originated from a typical love story, but developed into a truth-is-stranger-than-fiction saga. Important aspects of the feud's history are unbelievable. Bold-faced, cold-blooded murders; trumped-up criminal charges; disappearing witnesses; surprising court room procedures; twisted Texas law; unusual insane asylum lockups; and an enraged, mean-spirited husband make the story seem more like the plot of a dime novel than the real thing. In Vengeance Is Mine, Bill Neal, a retired attorney, tells the incredible yarn well and compellingly."--New Mexico Historical Review
"Bill Neal has done his usual painstaking research into the voluminous files of newspaper and trial records that trailed this strange and exotic tale over half a century."--Southwestern Historical Quarterly
"Neal has us understand that in Texas, as most of the Old South, there is the written law and then there is the unwritten law, the latter wherein a man has the right to protect his home and family. Of course, one might ask, was Beal Sneed protecting his home or his reputation?"--
Wild West History Association Journal
"[A] story that would be any screenwriter's dream. . . .
Vengeance Is Mine
will appeal to armchair historians, those interested in slightly more esoteric aspects of Texas history, and those looking for a good, exciting read about a scandal and its ripple effects."--
Review of Texas Books
University of North Texas Press, 9781574413175, 336pp.
Publication Date: June 28, 2011
About the Author
BILL NEAL practiced criminal law in West Texas for twenty years as a prosecutor and twenty as a defense attorney. He is the author of Getting Away with Murder on the Texas Frontier: Notorious Killings and Celebrated Trials, From Guns to Gavels: How Justice Grew Up in the Outlaw West, and Sex, Murder, and the Unwritten Law: Courting Judicial Mayhem, Texas Style.
or
Not Currently Available for Direct Purchase