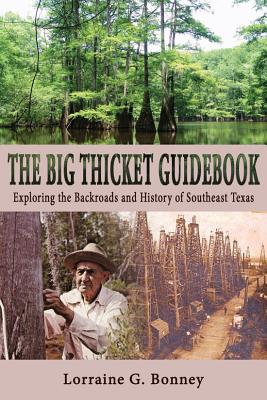 The Big Thicket Guidebook (Hardcover)
Exploring the Backroads and History of Southeast Texas (Temple Big Thicket Series #6)
University of North Texas Press, 9781574413182, 848pp.
Publication Date: October 4, 2011
* Individual store prices may vary.
Description
Start your engines and follow the backroads, the historical paths, and the scenic landscape that were fashioned by geologic Ice Ages and traveled by Big Thicket explorers as well as contemporary park advocates—all as diverse as the Big Thicket itself. From Spanish missionaries to Jayhawkers, and from timber barons to public officials, you will meet some unusual characters who inhabited an exceptional region. The Big Thicket and its National Preserve contain plants and animals from deserts and swamps and ecosystems in between, all together in one amazing biological crossroad. The fifteen tours included with maps will take you through them all.
Visitors curious about a legendary area will find this book an essential companion in their cars. Libraries will use the book as a reference to locate information on ghost towns, historic events, and National Preserve features.
About the Author
Born and educated in Canada, Lorraine G. Bonney married Houston attorney Orrin H. Bonney. Together they co-authored books on the Grand Tetons and Wyoming climbing. Since Orrin's death, Lorraine has completed The Grand Controversy: History of Climbing in the Tetons to 1934, and Wyoming Mountain Ranges. She divides her time between Kelly, Wyoming, and Conroe, Texas, deep in the Big Thicket.
Praise For The Big Thicket Guidebook: Exploring the Backroads and History of Southeast Texas (Temple Big Thicket Series #6)…
"A result of a prodigious amount of local research as well as a great deal of driving and tramping around, this book might end up as a classic."—Thad Sitton, author of Backwoodsmen: Stockmen and Hunters along a Big Thicket River Valley
"Lorraine Bonney is a really fine writer—clear, precise, and descriptive."—F. E. Abernethy, author of Tales from the Big Thicket
"Bonney's book is a compendium of information otherwise not available or 'swept under the rug.' Not just a guide, this is a reference book to local history."—Pete A. Y. Gunter, author of The Big Thicket: An Ecological Reevaluation
"After offering an enticing view of the Big Thicket's history and geography, Bonney offers an extensive list of self-guided tours. Each of the thirty-nine tours includes detailed routing with discussion of people, historical events, and natural beauty along the way. One need only go to the suggested starting point, watch the odometer, and read along for an interesting adventure."--Southwestern Historical Quarterly

"Bonney has prepared an epic travelogue of history, geology, topography, and biology of the Big Thicket. More than a modern travelogue, it is a map guide to the past, useful to naturalists, local historians, preservationists, genealogists, and family historians looking for their roots."--Journal of South Texas
"[O]ne of the best books available to give visitors everything they want to know about the Big Thicket and surrounding areas."--Review of Texas Books
or
Not Currently Available for Direct Purchase