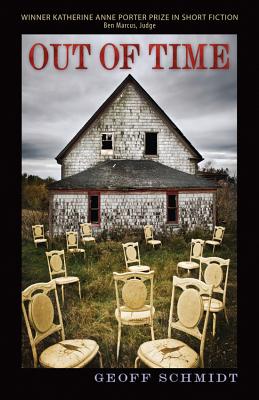 Out of Time (Katherine Anne Porter Prize in Short Fiction #10) (Paperback)
University of North Texas Press, 9781574413199, 128pp.
Publication Date: November 10, 2011
* Individual store prices may vary.
Description
Winner of the Katherine Anne Porter Prize in Short Fiction, 2011.

A sweet slipstream stew, a call and response to Hemingway's In Our Time, Geoff Schmidt's debut collection Out of Time is a meditation on meaning and mortality, and the ways that story and the imagined life can sustain us. In these stories, vengeful infants destroy and rebuild the world, rivalrous siblings and their mother encounter witches and ghosts and the possessed, Barack Obama and Keith Richards smoke their last cigarettes, men and women with cancer variously don gorilla suits or experience all time simultaneously. Time is running out for all of the people in these stories, yet the power of language, the human ability to tell, to imagine and invent, is a redemptive force.
About the Author
GEOFF SCHMIDT received degrees from Kenyon College and the University of Alabama and teaches at Southern Illinois University Edwardsville. The author of a novel, Write Your Heart Out, Schmidt has won a Pushcart Prize Special Mention. His work has appeared in The Southern Review, Crab Orchard Review, New Orleans Review, and Black Warrior Review. He lives in Edwardsville, Illinois.
Praise For Out of Time (Katherine Anne Porter Prize in Short Fiction #10)…
"The stories in Out of Time chase after the secrets and sorrows of families, revealing the lengths people will go, and the harm they will do, to keep their worlds together. These characters are not crazy, they are in love and afraid. Geoff Schmidt writes a lucid, new mythology in prose that's limned with fear and awe. To read these stories is to feel the force and urgency of a new and vital literary voice."—Ben Marcus, author of Age of Wire and String, and judge
"Geoff Schmidt's beautifully strange fiction proves once and for all that experimentation in fiction isn't all head and no heart. If you want to see what the American short story form is capable of, read and savor Out of Time."—Cathy Day, author The Circus in Winter, Comeback Season
"Geoff Schmidt's sublime collection, Out of Time, arrives, a postmodern rewriting of Hemingway's In Our Time, saturated with a rich Midwestern Gothic stain that stares into the holy understated flatness of grace under fissure. Out of Time—timeless, timeful, timely—clocks out a rewind of the alarming nature of the everydayness of everyday life."—Michael Martone, author of Michael Martone and Four for a Quarter
"My god this is a god-awfully beautiful book, beautifully mysterious, mysteriously beautiful, a small, racing, fairy tale nightmare of an all-too-real world. Schmidt is a brilliant writer, as full of linguistic energy as those geniuses from the '60s, but with all their gifts packed into one and a lot more compassion than most. What a real, true tour-de-force. Anyone and everyone who loves fiction should read it, own it. Unforgettable."—Brad Watson, author of Aliens in the Prime of Their Lives: Stories
"There are, in Schmidt's collection, characters totally conscious of their every day, frightfully awake and vibrant, so much sometimes that this reader is taken aback by how well these characters live on a page. . . . Schmidt's debut is an excellent juxtaposition of route, fate, and destination."--Mid-American Review
or
Not Currently Available for Direct Purchase